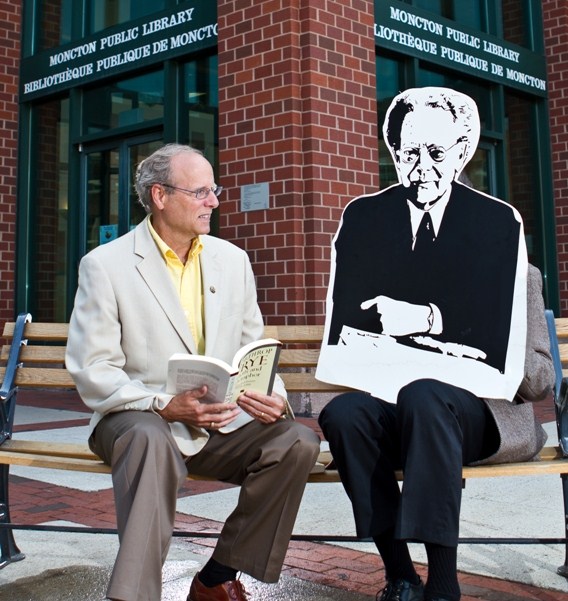 Moncton mayor George LeBlanc chats with Northrop Frye at the site of the future public art display.
For those of you who've been voting daily for the proposed Frye sculpture, the proposal now sits in sixth (that's 6th) place.  Only the top two proposals will receive a $25,000 prize.  So, of course, we're encouraging everyone to be sure to vote daily.
Happily, Dawn Arnold has simplified the process by providing a direct link to the vote button here: http://www.refresheverything.ca/fryefestival For those of you who've already registered with the site and voted, just hit that link, sign in, and then hit the vote button at the bottom of the page.  If you've not yet registered or voted, please do so as soon as you can.
And remember: you can vote every day.  So be sure to bookmark that link.
From an article about the proposed sculpture in today's Times & Transcript:
The city and Downtown Moncton Centre-Ville Inc. have been promoting the idea of more public art in the downtown area and Arnold says now is the time to celebrate Moncton's most famous son. Arnold says a statue of Frye would feed the imaginations of others in the community, contribute to a more vibrant and visually rich community and celebrate the growing importance of literacy in our society.

The statue would also become a bit of a tourist attraction, a place where people could go to have their photo taken like the Bronze Fonz in Milwaukee, the statue of Winston Churchill in Halifax; or the statue of John Lennon in Havana, which portrays the famous Beatle sitting on a park bench, turning to his left as if in conversation with whomever happens to sit next to him.
Here once again is a direct link to the voting site: http://www.refresheverything.ca/fryefestival
So, go already!