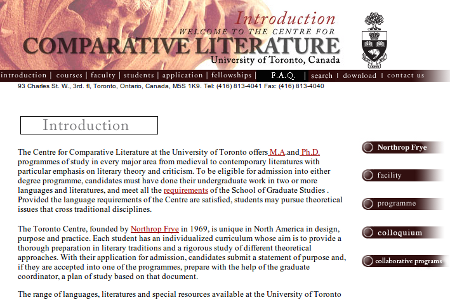 Thanks to everyone; please be sure that you sign the petition: http://www.petitiononline.com/complit/petition.html
We are working very hard to ensure that the Centre for Comparative Literature stays at the University of Toronto and that this aspect of Frye's many achievements is maintained.  If you have further thoughts and ideas, please share them with us: www.savecomplit.ca.
Please send a letter to the President of U of T, cc'ing the Provost, Dean of Arts and Sciences, the Chair of Comparative Literature, and the Save Comparative Literature Campaign (contact information: http://www.savecomplit.ca/Protest.html).  Stories like the one provided yesterday by Nicholas Graham are exactly what the University needs to be made aware of and, the Frye blog is doing an excellent job of publishing these.  Meanwhile, I am preparing a post on the History of the Northrop Frye Professor in Literary Theory.
These links are cross-posted on our Facebook page under the Discussions tab.