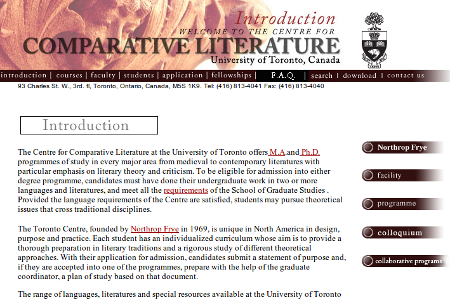 Neil ten Kortenaar, director, Centre for Comparative Literature, University of Toronto, in a letter to the Editor of the Globe and Mail
Northrop Frye lives on. His books continue to inspire readers, scholars of literature and editorial writers. To remember Mr. Frye's legacy, as the editorial Fearful Anatomy (July 17) does, is one way to honour it.
Another way is to maintain a space where ideas that measure themselves against the world and that seek to be as large as literature, culture and the imagination itself can flourish. Frye himself established such a space at the University of Toronto, and the work of the many graduates from the Centre for Comparative Literature testifies to the value of a space between languages and disciplines, where one can see what they share and appreciate their diversity.
U of T is the premier place for studying comparative literature in Canada, and its degree programs in comparative literature are now at risk. That is the important news item here.