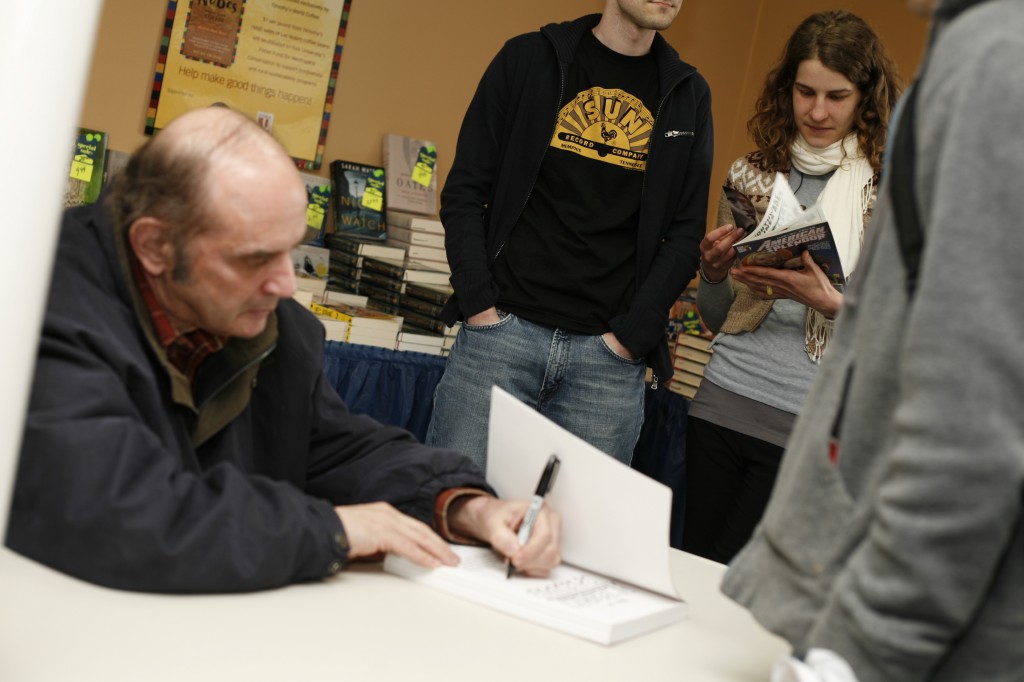 Harvey Pekar autographing copies of American Splendor in Moncton in 2007
Here are some photos I've been able to find of a book signing with the late Harvey Pekar at a local comic book store in Monction.  This event was part of our festival in 2007.  Unfortunately, we don't seem to have photos or any press clippings covering Harvey's main event at the festival, a 90 minute appearance alone on stage where he took questions and comments from about 200 people, a very candid exchange during which he revealed a lot about himself and his creative process.  Sadly, I don't believe we videotaped this event.  However, I retain the unforgettable image of him sitting alone on stage under a bright light, holding his head in his hands, patiently welcoming and answering all questions.  Like a character out of Beckett.  He said things like: I can't believe this is happening.  Why do you care what I have to say?  I don't deserve this.  You're actually paying me for this?  He talked a lot about the movie American Splendor and the burst of fame it brought, along with the headaches.  The audience was made up of a lot of people we don't usually see, and everyone was thrilled.
Our earlier post here.
New York Times obituary here.
More pictures of Harvey in Moncton after the break, along with a recent extended  interview with him at Penn State.