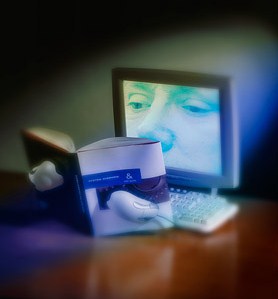 We're coming up on our first anniversary, and we are doing pretty well: more than 900 posts and counting.
Our readership has settled comfortably between about 8000 and 10,000 visits per month, which of course means about 100,000 per year.  Our page views are about quadruple that, which means that, on average, our visitors are reading four pages per visit.  We hope to do even better in our second year. We have received visits from about 100 countries from every continent (excepting Antarctica, although we remain cautiously optimistic).  On any given day, we'll get visits from about 30 countries, and it's clear we've got regular readers all around the world who check in with us every day, sometimes multiple times a day.  We are still learning how to use our new Facebook page to extend our reach further and to bring different elements of the Frye community together.
As always, we invite you to submit posts of your own.  We can't have too many Guest Bloggers and, you may have noticed, we are drawing more of those from more communities of readers.