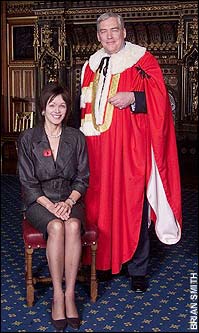 His Lordship and Lady Black

Today is Conrad Black's birthday (born 1944).  Once a Canadian press baron, he gave up his Canadian citizenship to become a Peer of the Realm, Lord Black of Crossharbour.
As a boy he was thrown out of Upper Canada College for stealing and cheating.  As an adult he was thrown into U.S. federal prison for cheating and stealing.  He is currently out on bail pending an appeal of his convictions for fraud and obstruction of justice.  John Ralston Saul has observed of him:
Lord Black was never a real "capitalist" because he never created wealth, only dismantled wealth. His career has been largely about stripping corporations. Destroying them.
Frye on aristocrats and proletariats in Denham's Frye Unbuttoned:
Aristocrats get everything in this life: consequently they are fatalists & accept a Hades shadow-world.  Cults of immortality are proletariat. (15)
Having been stripped of most of his assets — and a convert to the view that the American justice system is brutal and unjust, while also wondering aloud what that system must do to people without his means — it will be interesting to see if Lord Black might again become Citizen Black, this time with a more proletariat than aristocratic view of things.