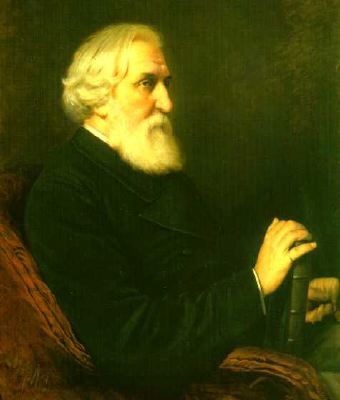 Today is Russian novelist Ivan Turgenev's birthday (1818-1880).
Frye on Russian literary language in an interview with Matthew Fraser, "Northrop Frye: Signifying Everything":
Fraser: The language of literature is often very different from the common spoken language of a country.  For example in Russia, because of the strong influence of Pushkin, the literary language is divorced from spoken Russian.  In North America, however, the literary language is virtually the same as our spoken language.  Why do you think that in some countries there is such a gap between literary and spoken language, and in other countries there is no difference at all?

Frye: I think that with Russia it has something to do with the rather late development of their literature.  And of course there are other countries like Norway where the literary language is almost an invented language.  I think that the gap between literary language and ordinary spoke language is a very unhealthy thing, especially in fiction where the dialogue, at any rate, has to capture the spoken word.  I don't know how countries get along if there is too great a gap between literary language and the colloquial language, but certainly in North America that battle was fought out as early as Huckleberry Finn, where it was clear that the language spoken by the people is the literary language as well.