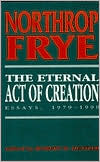 Further to Bob's post earlier today: 
Some more Frye on ghosts, from "Henry James and the Comedy of the Occult":
Such a story as The Sacred Fount brings the relation of reality and realism into sharp confrontation: either there is some hidden reality that the narrator's fantasies point to, however vaguely and inaccurately, or there is no discernible reason for setting them forth at all.  This principle, which runs through all of James's work, gives the occult stories a particular significance.  A ghostly world challenges us with the existence of a reality beyond realism which still may not be identifiable as real.

He turned once again to his ghost story [The Sense of the Past] just before he died, because in its fantasy he saw the reality he had sought as an artist, whereas the realism in the social manners of his time had left him with a sense of total illusion.