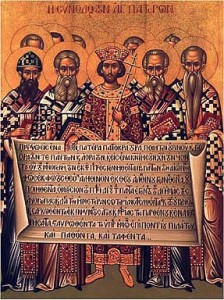 Responding to Clayton Chrusch:
Clayton, the one place where I disagree with you is the assumption that the hermeneutic of charity is unorthodox. In fact, it is the essence of Augustine's hermeneutics as set out in On Christian Doctrine:
Whoever, therefore, thinks that he understands the divine Scriptures or any part of them so that it does not build the double love of God and of our neighbour does not understand it at all. Whoever finds a lesson there useful to the building of charity, even though he has not said what the author may be shown to have intended in that place, has not been deceived, nor is he lying in any way.
Also, I think orthodoxy begins with faith, which is not intellectual assent. This is expressed in Anselm's maxim "credo ut intelligam," "I believe so that I may understand." Not a quotation Frye was fond of, as I recall. But it does express the point you are also making, that one should not make "an idolatry of one's current understanding of God." The Nicene creed is a statement of faith in the first person plural, at least in its modern translation: "We believe in one God," etc. is a statement of collective faith. How that faith is understood is a matter for each individual, and develops through that individual's life. In that sense the language of the creed is more the language of myth than the language of positive knowledge.
Perhaps my use of the term "orthodoxy" has caused some misunderstanding; by it the theologians I was discussing mean an affirmation of the traditional creeds of Christianity. I would distinguish this -radically!-from fundamentalism, which approaches the doctrine of the church not as myth but as positive knowledge, like the student who every few years tells me in the Bible and literature course about the remnants of the ark on Mount Ararat. The type of liberal theologian who was prevalent when I was growing up delighted in shocking people by arguing, in an equally positivistic way that this or that story "did not happen." I recall Frye saying that to say you do not, or do, believe in the virgin birth is to be theologically illiterate.