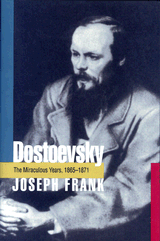 As a way perhaps of tying together two of the recent threads on the blog, I thought I might offer up this little piece as an intriguing example of Leviathan symbolism. It is a summary of Dostoevsky's unfinished grotesque allegorical satire, "The Crocodile," from Dostoevsky: The Miraculous Years, 1865-1871, vol. 4 of Joseph Frank's monumental critical biography.
The Jonah/Leviathan archetype is all the more resonant in the tale because it is a playful but deadly serious satirical attack on the murderous logic of ideologies–in this case the opposing faiths of capitalism and socialism–and the way in which the primary demands of human welfare are so "rationally" sacrificed to the secondary concerns of ideology:
The Crocodile concerns the fantastic adventure of a conceited bureaucrat of 'advanced' opinions, who is accidentally swallowed by a crocodile on exhibition in St. Petersburg and quite contentedly swallowed by a crocodile on exhibition in St. Petersburg and quite contentedly takes up residence in his belly. From this secure vantage point, whose isolation allows him the leisure to concentrate his mind, he decides to proclaim a whole new set of ideas about the future improvement of mankind. As he explains his enthusiasm, "you have only to creep . . . into a crocodile . . . shut your eyes, and you immediately devise a perfect millennium for mankind." This mockery of a visionary Utopianism, however, is not Dostoevsky's main target; rather, he focuses on the futile attempt made by a naive friend of the crocodile-dweller, concerned about his health and welfare, to initiate a rescue effort before he dissolves entirely in the reptile's gastric juices. This well-meant humanitarian aim is opposed by a highly placed bureaucrat, who has recently been convinced by an important capitalist that Russia is greatly in need of new foreign investments. The crocodile is the property of a visiting German entrepreneur, and any injury to it would only discourage the flow of capital into the country and hinder Russian economic expansion.
The crocodile-dweller himself, though "progressive" to the tips of his toes, nonetheless agrees with the capitalist's reasoning: before all else, "the principles of economics" must be respected. All consideration of simple "humanity" are thus swept aside, and the logic of utility, the logic of economics, triumphs over the plight of a human being. The advocate of capitalist enterprise and the inventor of a new millennium are in complete accord; both right and left in Russia, as Dostoevsky saw it, had now accepted exactly the same chilling and inhumane prescriptions for human conduct.