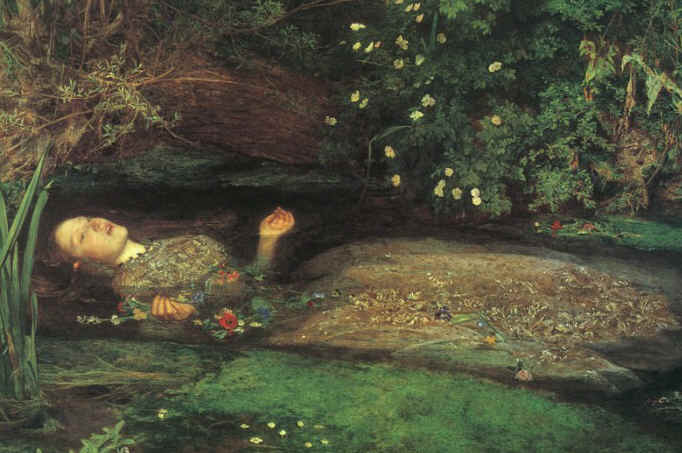 Millais's Ophelia, 1852
Jonathan Allan, a doctoral candidate in English at University of Toronto, will be joining us as a byline correspondent
As I complete the closing chapters of my dissertation and begin an extensive revision, I realize that I have an ongoing debate with Frye in my own notebooks: a debate that unfortunately does not unfold in the dissertation.  There is one point of contention that I run up against over and over again.
Frye writes of the "magical emphasis on virginity [in romance], the fact that virgins can do things others can't" (CW XV:219, 236); he adds that "virginity is somehow in tune with an unfallen version of the world itself" (CW XV:219).  More specific to my own concerns is Frye's observation that "this prudery [about virginity in romance] is structural, not moral" (CW XV:187).  Most of these notions find their way into The Secular Scripture in which Frye writes that "apart from the idealizing of the pre-sexual state, there is a sense in which virginity is an appropriate image for attaining original identity: what is objectively untouched symbolizes what is subjectively contained so to speak" (153; CW XVIII:101).  Earlier in The Secular Scripture, Frye writes: "one can, of course, understand an emphasis on virginity in romance on social grounds.  In the social conditions assumed, virginity is to a woman what honor is to a man, the symbol of the fact that she is not a slave.  Behind all the 'fate worse than death' situations that romance delights in, there runs the sense that a woman deprived of her virginity, by any means except a marriage she has at least consented to, is, to put it vulgarly, in an impossible bargaining position.  But the social reasons for the emphasis on virginity, however obvious, are still not enough for understanding the structure of romance" (73; CW XVIII:49-50).  It is clear that virginity becomes a central aspect of the romance structure and that the role of virginity is not moral.  However, if this is really indeed the case, why has Frye gendered virginity?  Why is virginity uniquely concerned with the female subject?
The romance as a generic model does not preclude the hero from being a virgin or virginal; thus, it seems imperative to ask why this model of purity is not ascribed to both the male and female if it only serves a structural goal?  Indeed, if one looks to contemporary fiction, it might be demonstrated that the "virginal" male is certainly present: Stephenie Meyer's Twilight goes to great pains to ensure the virginity of its hero; likewise, in a recent review of Dan Brown's latest opus, The Lost Symbol, Maureen Dowd notes: "[e]ven though Katherine seems like [Robert] Langdon's soul mate – she even knows how to weigh souls – their most torrid sex scenes consist of Robert winking at her or flashing her a lopsided grin."  There are surely dozens of examples of this virginal behaviour that extends beyond the female to the male.  It is likely there is debate about whether the male virgin even exists – two recent books on the subject would certainly cast doubt upon such a notion; Hanne Blank's Virgin: The Untouched History (2007) and Anke Bernau's Virgins: A Cultural History (2007) seem to evade the question entirely and only refer to it when absolutely necessary.
If virginity affords the heroine "magical powers," what is the source of the "magical powers" of the hero?  In upcoming work, I aim to reconsider the question of virginity in Northrop Frye's theorisations of romance; however, such a study, as I am quickly learning, requires a re-reading of the very notion of virginity precisely because cultural historians seem not to recognize the very possibility of such a notion.  In this regard, it is hardly surprising that Frye should not have considered the question of the hero being virginal.  This question of virginity, of course, is not unique to the amorous romance novel alone; one need only think as far as Treasure Island wherein one could define the island itself as virginal – though most of the male characters seem rather virginal as well.  One might also consider a tale like Peter Pan as yet another example of the virginal hero; however, in the case of Peter Pan there is a movement towards asexuality or a sexless identity.   
Thus, the question that I keep returning to is: how can virginity be structural alone and not also part of a greater moral concern?  The romance need not offer a defence of abstinence – as is the case of Meyer's Twilight – but virginity must, and I would argue does, serve some purpose beyond the structure of the narrative.  The only way, I would imagine, that virginity could serve some structural purpose alone – one that allows for magical things to happen – is if this virginity existed in both hero and heroine.  For this virginity to exist, it must also be recognized, and therein lies the problem – how does one account for this seeming paradox in Frye's theory of romance?  Thus, the question that now haunts my current research (and as I begin to finish my dissertation with better questions than when I started) is about the nature and theory of virginity in the romance.