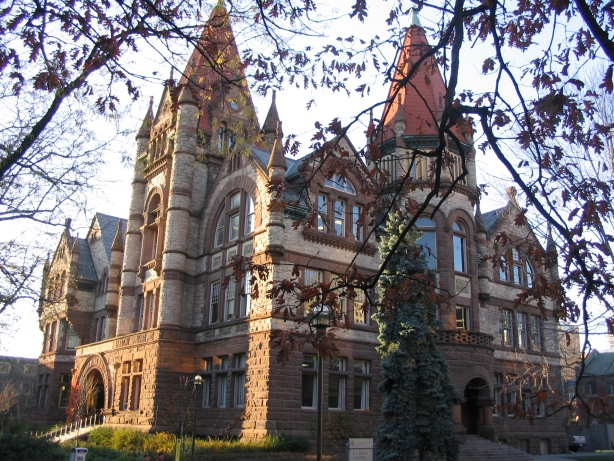 Bob Rodgers is a documentary filmmaker, TV producer, and writer, currently developing a web-based series titled "The Bible and Literature with Northrop Frye."
I am fresh from the West when I join Northrop Frye's graduate class at the University of Toronto in 1959. I know his reputation: Fearful Symmetry is twelve years old, Anatomy of Criticism barely two. Frye is already approaching canonization in the world of literary criticism and celebrity status at the University of Toronto. What comes as a shock is his appearance. He enters the room so unobtrusively it is as though he simply materializes from behind the podium, one eye eagle sharp as it surveys the room, the other with a slightly drooping eyelid as if out of shyness. Or is it irony? Setting Blake's Collected Works, his only prop, on the podium and gazing at us through glasses that seem to be the wrong prescription, he falls short of the glamorous figure I had anticipated.
Then moments after he begins speaking I forget where I am. I am hearing things as if in a foreign language, yet I seem to understand. As one startling idea follows another I am dazzled by the reach of his mind. At the end of class I haltingly approach him and am granted an interview to discuss my proposal for a term paper. I'm nervous. It is one thing to sit in the relative anonymity of a classroom, quite another to sit across from him face to face.
The doorway between the marble hallway and the hardwood floor of his office in old Emmanuel College has a slightly raised sill I fail to notice. I catch my toe on it and trip. In an effort to regain my balance, I lunge forward, stopping just before crashing into his desk. He looks up in alarm, rising half from his chair as if to fend off a tackle. It is an unpropitious beginning for my proposed topic: William Blake and the Dynamics of Energy and Order.
The imposing yet aloof man I met that day (once he settled back in his chair) was nothing like the man I am coming to know all these years later as I read away at U of T Press's mammoth publishing enterprise, The Collected Works of Northrop Frye. I am especially interested in the diaries and letters and notebooks that bring out his personal side, and not just one side but many—the self-confessed physical coward, the self-confessed genius, the frustrated novelist and unfulfilled composer, the reluctant introvert and what many would call the dangerous heretic. Most of all I was surprised by his liberal use of what he playfully called dirty words, which would have shocked his orthodox Methodist family and no doubt did shock some of his Victoria College contemporaries. I remember when I was young feeling the same surprise when I learned that Roosevelt had a mistress.
The published works seem certain to establish Frye's reputation as one of the Twentieth Century's greatest humanists. The voice is distinctive but impersonal. Only in the previously unpublished writing do we come into contact with the inner man, by way of an unceasing self evaluation in which nothing personal is censored. How many writers would hazard a remark like this that so notoriously troubled Harold Bloom:
Statement for the Day of my Death. The twentieth century saw an amazing development of scholarship and criticism in the humanities, carried out by people who were more intelligent, better trained, had more languages, had a better sense of proportion, and were infinitely more accurate scholars and professional men than I. I had genius. No one else in the field known to me had quite that.
Could these be the words of a braggart? Given what I remember as a student and what I'm learning of the man today as I go through the notebooks, all I can do is applaud him for acknowledging his gift and having the courage to declare it. Nietzsche was right. It is impossible to be a genius and not know it.