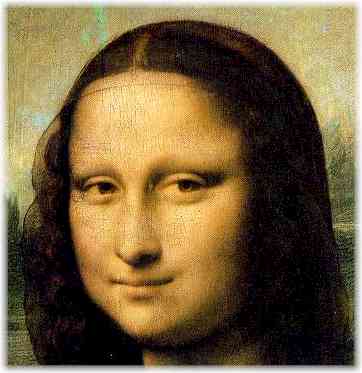 Further to Michael's post
"I must run across to the Louvre now, as it is getting late. The mob always goes straight to the Mona Lisa as the greatest drawing card. I'm a little annoyed with Leonardo just now. That miserable Bacchus and John the Baptist—which are of course open to doubt as to their authenticity—with their sickly smiles and their rather cloying chiaroscuro" (Frye to Helen Kemp. 25 September 1938)
Two years earlier Frye had reported to Helen on his visit to the Art Institute in Chicago: "The Art Institute has a special exhibit which I have visited twice, once with [my sister] Vera, once with Eleanor [Craig].  Renaissance painting–Tintoretto, Titian, two Leonardos‑‑one called the "Madonna of the Yarn Spinners," a magnificent Italian Madonna, with the same inscrutable Mona Lisa smile, and the freshest and rosiest youngster I have ever seen.  Some of the representations of the Christ‑Child are almost blasphemous‑‑he looks sometimes like a manikin of forty, sometimes like a wizened old priest.  One Raphael‑‑very simple but breath‑taking‑‑a man dressed in black.  Two Botticellis‑‑one I could have sworn was modern French.  Our old friend Lippo Lippi, and one of his incubi, Fra Angelico.  (Try your hand at Fra Lippo Lippi sometime, contrasting the medieval type with Early Renaissance in initial letters or marginal designs.)  The Renaissance pictures were all very soft and quiet in color.  But the medieval ones were different.  Nearly all of them had gold backgrounds, and the figures were splashes of brilliant reds and greens.  The haloes were bewilderingly ornamented.  Poses stiff and architectural, often notably Byzantine.  But a sort of quaint childlike humor all through.  One picture of the Last Supper shows a little spaniel in the foreground gnawing a bone.  One Madonna and Child shows the latter with his fist stuck in a dish of candy.  A weird one of John the Baptist's head brought to Sabine has a moving picture effect.  The head appears twice, and so do three attendants, at different stages in the procession.  I liked these medieval pictures best of all, I think.  Then the Dutch school.  Some rare humor here too.  One a young group of smokers trying to blow rings.  A beautiful Rembrandt‑‑"Girl at Half‑open Door" and a portrait of his father.  Several Franz Hals‑‑all the "Laughing Cavalier" type.  And an exquisite picture of a "Woman Weighing Gold."  And so on.  The Dutch primitives disappointed me a bit.  There is an English room‑‑several graceful Gainsboroughs, a Romney, Reynolds, Raeburn, Zoffany, and Hogarth.  American colonial painting, including the two famous Gilbert Stuart portraits of Washington.  Whistler‑‑the great portrait of his mother‑‑one of the biggest attractions‑‑a superb picture in gray and black.  And the Thames "nocturne"‑‑the one that started the row with Ruskin.  Sargent‑‑a lovely study of an Egyptian nude girl‑‑surprisingly slim for the Orient.  Modern French too‑‑a room full of Matisse and Picasso.  That man Matisse knew how to handle color.  A picture of Picasso's of a youngster eating out of a bowl called "Le Gourmet" is very popular‑‑Eleanor said it was her favourite" (Frye to Kemp, 1 July 1933).
From Northrop Frye's Student Essays: "The relation of the artist to the scientist boils down to one very similar to his relation to the moralist or propagandist.  The scientist explains, and his words and images denote; the artist suggests, and his words and images connote.  No two people will look at a picture in the same way; and if I am looking at one, all the other possible reactions to it, which I may or may not share, form a sort of nimbus around my head, which I try to get away from.  If I am looking at Mona Lisa, for instance, I withdraw into myself in order to escape from both Walter Pater, except by responding to a meaning in the picture essentially "evocative" and "spell‑bearing" (CW 3, 377).
– – – –
A number of poems have been written about the Mona Lisa.  They include:
Walter Pater, Mona Lisa.  In D.G. Kehl, Poetry and the Visual Arts.  Belmont, CA: Wadsworth Publishing Co., 1975.
Pater's poem also appears in Gilbert Kranz's Gedichte auf Bilder: Anthologie und Galerie.  München:  Deutscher Tashenbuch Verlag, 1976.  In addition to Pater's poem, Kranz anthologizes the following:
Edward Dowden, Mona Lisa
Michael Field, La Gioconda, by Leonardo da Vinci
Jaroslaw Vrchlický, Mona Lisa
Manuel Machado, Die Gionconda, German trans. from the Spanish
Gustav Fröding, Mona Lisa
Hermann Claudius, Mona Lisa
Thomas McGreevy, Gioconda
Cor Klinkenbijl, Mona Lisa
Zbigniew Herbert, Mona Lisa
Kurt Tucholsky, Der Lächeln der Mona Lisa
Birthe Arnback, Mona Lisa
Thorkild Bjørnvig, Mona Lisa
Jess Ørnsbo, Mona Lisa [
Peter Spaan, Da Vinci. La Gioconda
Bruno Stephan Scherer, Die Frau. Leonardo da Vinci: Mona Lisa
Edith Wharton, Mona Lisa.  In John Hollander, The Gazer's Spirit: Poems Speaking to Silent Works of Art.  Chicago: University of Chicago Press, 1995.
Nuhi Vinca, * * * [Leonardo Da Vinci, Mona Lisa], and Sadije Haliti, Mona Lisa.  In Vladimir Martinovski, ed., Ut Pictura Poesis: Poetry in Dialogue with the Plastic Arts: A Thematic Selection of Contemporary Macedonian Poetry.  Trans. Zoran Ancíevski.  [Struga, Macedonia]: Struga Poetry Evenings, 2006.  
Brian Strand, In the Gallery.  In Brian Strand.  Poiema: A Selection of Ekphrastic Poems.  Rothesay, Isle of Butte, Scotland: Q.Q. Press, 2006.
Janée J. Baugher, "Portrait of Mona Lisa," 1503.  In Mona Poetica Anthology (Waupaca, WI: May Apple Press, 2005)
Billy Collins, Sweet Talk.  In American Poetry Review, September 1995; and at http://valerie6.myweb.uga.edu/intertextuality.html#three
Alfred Dorn, Truant from the Louvre [after a sonnet on Botticelli by Maria Sassi and written for a fantasy on the Mona Lisa].  In Ekphrasis 1, no. 3 (Spring–Summer 1998): 59
Aimee Mackovic, Lisa's Lament.  In Aimee Mackovic, A Sentenced Woman (Georgetown, KY: Finishing Line Press, 2007), 7
Giovanni Malito, La Gioconda: Suite.  In Ekphrasis 1, no. 5 (Spring–Summer 1999): 18–19
Quinn Rennerfeldt, The Mona Lisa.  In Cider Press Review 8 (2007): 47
Norma Richardson, On Looking into the Mona Lisa.  In Norma Richardson, Peeling Back the Dark (San Francisco: San Francisco Bay Press Publishing, 2008
John Stone, Three for the Mona Lisa.  In John Stone, Renaming the Streets (Baton Rouge: Louisiana State University Press, 1985), 18
William Carlos Williams,  Tribute to the Painters.  In The Collected Poems of William Carlos Williams, ed., Christopher MacGowan, 2 vols. (New York: New Directions, 1988), 2:296–8
Antonio de Zayas, La Gioconda.  In Antonio de Zayas, Retratos antigues (Madrid, 1902), 30
See also:
Kennedy, X.J., Song: Hello, Dali [on Dali's, Self‑Portrait as Mona Lisa and other paintings].  In X.J. Kennedy, Peeping Tom's Cabin: Comic Verse 1928–2008 (Rochester, NY: Boa Editions, 2007), 35.
Frank Waaldjik, Op n Brandgans.  In Frank Waaldjik.  Trijntje Fop.  http://home.hetnet.nl/~sufra/trijntjefop1.htm.  More than 100 light verse poems by a Dutch visual artist that refer, often glancingly, to well‑known art works.  "Trijntje Fop," the nom de plume of the Dutch poet Kees Stip, derives from the Dutch satirist Multatuli (pseudonym of Eduard Douwes Dekker).  "Tryjntje Fop" was the name of a character in a short poem in Multatuli Ideas: "My name is Tryjntje Fop / And I have a cap on my head."  The name has come to stand for light verse about animals with human characteristics.  The poems ordinarily have six lines with an aabbcc rhyme scheme, and are replete with puns, spoonerisms, and other paranomastic devices.  They typically begin with "Op n . . ." ("On a . . ."), as in On an Octopus or On a Walrus.  Op n Brandgans, the ninth poem that refers to a work of art, is on the Mona Lisa.