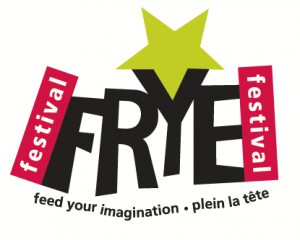 Thursday, April 22, 2010
My day began with minor crises…losing an author (but then finding him!), illnesses in an author's family, resulting in her cancelation, and a sick volunteer/KidsFest coordinator, but all was solved by noon.
The authors are arriving and it is so much fun to meet them (and match them with their much younger author photos!). The Festival Bookshop is open for business and there are piles of books just waiting to be purchased.
The noon-time round table was insanely eclectic, but worked incredibly well – where else would you get a doctor/novelist (Martin Winkler), a philosopher/novelist (Annabel Lyon), a Quebecois radical rapper/novelist (Biz) and an investigative journalist/novelist (Linden MacIntyre) all together talking about Stories and What They Do? The crowd was very happy (even though we ran out of simultaneous translation devices, for the first time ever!) and seemed so delighted to have had the opportunity to feed their imaginations in this way.
The book club with Steven Galloway was absolutely terrific! What a great guy! Steven is completely down to earth, modest and quite funny. The two "interviewers" (Suzanne Pelham-Belliveau and Laura Nicholson) did a great job of setting up the discussion and then Noah Richler, an audience member, stirred the pot! What great fun. I could have listened to Steven all day. He made us all think about civilization and what it means; the small things that we do every day to maintain our part of the "civilized" bargain.
I'm preparing right now for Soirée Frye, our annual evening extravaganza. I've been selling it this year as the ideal event to which to bring the "reluctant" Frye fan. We will see. We sent out tons of invitations and the event is "pay what you can", so I'm hopeful that people will pack into our beautiful Capitol Theatre. There are four authors on the schedule, including Nino Ricci and Christian Bök (who arrived on the red-eye at noon today, looking exhausted!). Also, in our ongoing Frye Festival tradition of bringing an Anglophone and a Francophone musician together for the first time ever, we have Juno-winning Julie Doiron and Guillaume Arsenault on stage. As well, we will award $3,500 in prize money to high school students who have won our annual Frye Writing Contest.  We also donate $1,000 to two winning schools for the purchase of new books. I'll be on stage with my co-host Mario Thériault, which probably means public humiliation for me, but hey, all in the name of literature! The reception to follow will be fun since all the authors will be there (they are all accompanied by members of our community) and there is talk of a big party afterwards…but I'm taking authors to interviews at CBC's Information Morning at 6:40 tomorrow morning, so I don't know how late I'll be out!