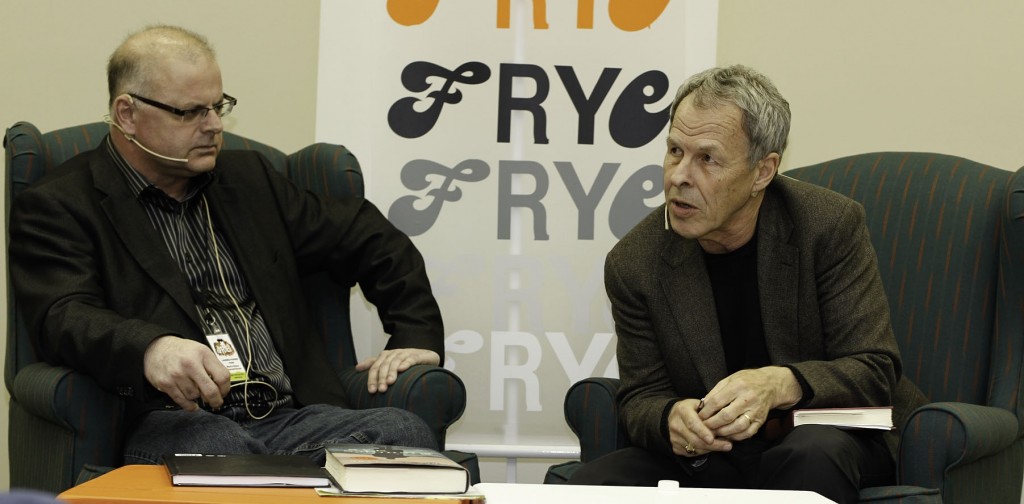 Maurice Basque and Linden MacIntyre
Friday, April 23, 2010
Well, I survived my 11th Soirée Frye and despite the public humiliation, I am relatively unscathed. My co-host Mario Thériault was up to his regular tricks of pointing out just what an uptight, snobby upper Canadian I am! It was just so nice to have all the students there, basking in the glory of winning the Frye Writing Contest, and for them to rub shoulders with all the invited authors. One student from Fredericton High School (Stéfanie Violette) who won second place in the short story category planned to stick around town, taking in some workshops and readings today. We try to match members of the community with the authors, finding just the right fit, and I know that some terrific friendships were formed last night between authors and their escorts.
This morning began in the best way possible: driving Linden MacIntyre to CBC's Information Morning. What a wonderful man. He is very impressed with the Frye Festival and believes that we need to do a much better job of selling the rest of the country on our unique spin on a literary festival, so of course I've been thinking about that all day! Getting some substantial and meaningful national coverage will be a major goal for us for 2011. After driving Linden and then Nino Ricci (I got them some Tim Horton's coffee on the way since the coffee machine with the Coffee Mate (yes, this still exists!) was just too terrible!) I ferried them back to the hotel for school visits and picked-up Noah Richler. What professionals. Each one of them was in the lobby at the precise time with a smile on his face. Local children's author Jennifer McGrath-Kent joined me to discuss KidsFest, finishing up the day of "Frye-Day" programming for Information Morning.
When I was leaving CBC (for the last time!) I ran into Dominic Langlois, one of the featured authors from "Prelude: Emerging New Brunswick Authors" and he took the time to tell me how much he had enjoyed the experience and how thrilled he had been to participate.
I then returned home to download some video footage, and in the process destroyed my son's video camera, so after a few hours of messing around with that, I bit the bullet and bought a new camera – I just couldn't bear to lose the footage from the last couple of days and I really wanted to capture the events today, since I do believe that "showing" people what the Festival is all about will be much more effective than "telling". (Our Youtube channel on our site should be filled with footage very soon.)
The noon-time roundtable was interesting, but perhaps a bit too esoteric for the high school students in the crowd. I do believe that we will need to be a bit more careful in ensuring that we have subjects that high school students will be interested in for this Friday roundtable, since this seems to be one event that schools enjoy sending students to.
Back at headquarters, Roxanne Richard, our Assistant Director and the person responsible for all the school visits (and arranging the drivers for all the visits) was starting to breathe a bit easier as the last of the visits were finishing up. Some of the praise from the schools was starting to trickle in, which is always so wonderful. Kathy Prosser, an English teacher at Moncton High wrote of Beth Powning's visit to her class:
Beth Powning presented to two classes today and at the end of her last presentation she stopped me before I left and said the last group was her favorite group.  They were my Canadian Literature 120 students and they all had interesting questions about the writing process, publishing and her life.  I could tell that she was really enjoying the chance to talk to such a creative group and, in fact, she noted at the end that she thought many of the students must be writers themselves as she has never had a conversation like it before.  She really was inspirational and personable.  She was right; many of the students she spoke to are creative writers.  It was really a great match.
Thank you again, both of you, for allowing us to share such a magical opportunity.  I think it may have changed a few lives today!
There were a few people that hadn't heard that the "Branding with Integrity" workshop had been cancelled, so I had the opportunity to meet with them and encourage them to attend other Festival events. The beauty of the volcanic ash excuse is that no one seems to be mad by the cancellations and completely understand our predicament.
Linden MacIntyre was absolutely terrific in the Book Club at the Moncton Public Library. Maurice Basque, the Director of Acadian Studies at the Université de Moncton had some insightful questions, but really, you can tell that Linden has made his career out of telling stories. The audience was completely enraptured by him! I heard many positive comments as I left and even got the names of a couple of book lovers who agreed to be interviewed about the Festival.
I missed the visit of some authors to the Boys and Girls Club (and the recent visit by children's author Jacob Berkowitz to the Magnetic Hill Zoo), but I know that these events went extremely well, as they usually do. Partners like this are always thrilled that we can provide them with an author.
I am sadly missing "Beer and Books" at the moment as I write this, but I do believe my brain is full and I need to save some space for tonight! Suzanne Cyr, our French Programming Chair (Ed Lemond's Francophone equivalent) is realizing a long-held dream of participating in a national Radio-Canada broadcast of Vous m'en lirez tant live from the Festival.
My fingers are crossed (kind of hard to type!) that Moncton will come out in huge numbers tonight to see Linden MacIntyre, Annabel Lyon, Nino Ricci and Noah Richler…this is historic! Four English Canadian bestsellers on stage at Université de Moncton!