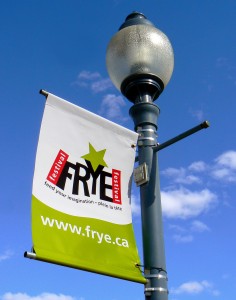 The last full day of the festival, and it feels like we're winding down.  We need to wind down, because the exhaustion factor is taking hold.  I had a great moment last night talking with Christian Bök, after his smashing performance of about 10 pieces of sound poetry.  This is poetry that is all sound, noises, bits of words stripped of all meaning.  Sometimes soft, musical sounds, sometimes harsh and violent.  Everything held together with the rhythm and the music.  It's a tradition that goes back thousands of years, in Christian's mind.  I could have talked longer with Christian, but it was midnight, and my wife was waiting below, past the point of no return.  Ronald Leger, a poet of Acadia, had presented something similar a bit earlier, though not so extreme.  The event is called Night Howl, and this year it lived up to its billing.
Yesterday was very busy with writing workshops, school visits, dialogues, readings, and a roundtable, which was called "Writing Lives and Afterlives," with Nino Ricci, Daniel Poliquin, Maryse Rouy, and Noah Richler.  The noontime roundtable was lively, with a somewhat shifting focus – from the demands of historical fiction, to the ethics of using real people as models for fictional characters, to the way narrative techniques are brought to the table when writing biography and memoir.  The shifting focus probably did, as Dawn has suggested in her blog, leave our class of high school students feeling adrift.  We'll work on that for next year.
The highlight of the afternoon was a conversation / interview with Maurice Basque, an Acadian researcher and scholar at the University of Moncton, talking with Linden MacIntyre about The Bishop's Man. Because Maurice knows the book so well, backwards and forwards, and because he knows the Acadian situation equivalent to the Cape Breton of MacIntyre's book, the conversation was informative, serious, and deep, and also filled with so many funny moments that they had the audience in stitches.  Linden told about asking his 93-year-old mother what she thought of his book.  Was she upset with it because it undermined the faith that is so important in her life?  She replied: "My faith has never depended on what any man does or doesn't do."
At 5pm Marie Cadieux, Acadian writer and filmmaker, hosted a reading that we called "Beer and Books."  There was plenty of beer available, though just as many chose wine or plain water.  The readers were Fred Stenson, Gracia Couturier, Biz (rapper and author from Quebec), and Steven Galloway, filling in for absent Kathryn Kuitenbrouwer.  What was nice was the way Marie engaged each author in a brief conversation after his or her reading.
The big event of Frye-Day was "An Evening of Canadian Literature with Annabel Lyon, Linden MacIntyre, and Nino Ricci."  Noah Richler was superb as host, though he left immediately after to see his wife Sarah, who had flown into Moncton earlier in the day, according to the report I heard, after being stranded in Europe (England?) due to the volcano.  He did seem to be on edge all day, but maybe that's just Noah.  He's always probing and exploring, asking questions and wanting answers.  It's great!
Noah talked about Frye's fictional modes, whereby fictions are classified by "the hero's power of action" – myth, romance, high mimetic, low mimetic, and ironic.  Annabel Lyon, writing about Aristotle, Nino Ricci, writing about Jesus (and Trudeau), and Linden MacIntyre, writing about the high and mighty Catholic Church, have all touched on large, heroic figures, but in drawing these figures down into the novel, are they not worried that they are going to diminish them and make them less than they really are?  Not at all, the 3 novelists replied.  They, as writers, draw the historic, heroic figures in closer in all their humanity and complexity, and so they come alive, but not diminished.  In the past we've had some good video footage of these Friday evening events, and I'm assuming that the people looking after the technical side of things will have some for us this year as well.
I'm on my way to the Saturday Brunch and Books with 4 authors in a quiet, relaxed atmosphere, after last night's Howl.  At the same time this morning there's an event called KidsFest, which goes for about 3-4 hours, with readings, workshops, fun and games for kids 2 to 12 and their parents.  It's set up in the Public Library and in the lobby outside the library and usually attracts a lot of people – 400 or so.
At noon Noah Richler gives the 5th annual Antonine Maillet – Northrop Frye Lecture, which he has titled: What We Talk About When We Talk About War. This will be a high point of the festival, always well attended.  The 4 previous lectures have all been published by Goose Lane Editions, in neat bilingual editions.
All the authors (those still in town) are supposed to come together at 3 this afternoon, at the festival bookstore in the lobby of the Delta Beausejour Hotel, to give the public a chance to meet them, talk, and get books signed.  We'll see how that goes.  At 6pm there's a dialogue with Fred Stenson, novelist, and Christian Bök, sound poet, and I'm a little worried about a mismatch, though it's surprising sometimes what writers can find in common, when it comes to the writing life.  They're both based in Alberta, which gives them something else in common, maybe.
Prime time tonight will feature Daniel Poliquin in conversation with Jean Fugere.  Frye Jam follows at 10, with a long line-up of readers and musicians far into the night.  Some of us will be turning into pumpkins.  And begging our wives' (or husbands') forgiveness.  When will life get back to normal, they wonder.  Will it ever?