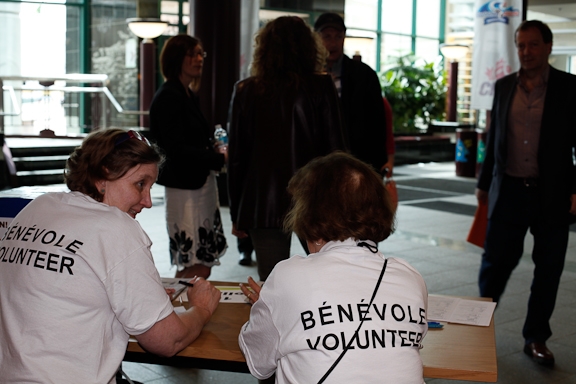 We had our Volunteer Appreciation Party last night at Atlantic Lottery Corporation. What an amazing group of people who contribute so much to our community. We had door prizes for everyone and the opportunity to thank them all for driving authors to school visits, conducting audience surveys at events, taking tickets at the door, playing word bingo with kids at KidsFest, and so much more!
I am lobbying hard to have a new school in Moncton named "Northrop Frye Elementary"…we shall see! Thanks to Robert Denham (via Ed Lemond) for the definition of "Northrop".
Sadly, I remain "ni-lingual" (incapable of speaking or writing in English or in French), so I don't have any enormous insights on the Festival yet (sorry Michael!).
As promised, here is the full text of our poet flyé's (Jesse Robichaud) Poem Flyé. Jesse is a journalist for our local paper, the Times and Transcript and is a gifted, bilingual writer. He told me today that he considers "the festival one of the best things about Moncton, and also symbolic of the best things about Moncton". Jesse delivered this poem at the Greater Moncton International Airport at our closing and it will have a permanent presence at the airport.
Life between the mouths of an uncaged river, an enraged volcano, and rampaged poets

We may be in more trouble than we may know

We're sitting on a collision course between a mighty river and a brimming volcano

Figés sur le tarmac

Deja trop loin d'une fiction pulpeuse et du Big Mac Hollywoodienne, le Big Mac.

Waiting for a crash course in everything.

Signe d'un docteur de lettres

Ou bien d'une lettre du docteur, signe.

Trembling fire- on one end.

Balancing out the threat of blood, no watershed – off the deep end.

And streets will rock with lava.

And run down with brown.

Free-range desire

Caged-up fire

Nul raison d'épargner ses mots,

Dans cette économie il faut les dépenser.

Tax purposes.

H & R Writers Block.

Désir full blast.

Une riviere de mélasse.

A rusty cage that won't last.

Les cris des poètes s'enchainent

Les hiboux se déchainent.

Ni bodyguards ou gardes-corps (gardes-fous).

Réalisations unies, munies de mots et de metaphores

Mega-roar.

Sans peur des poetes, ni des hauteurs,

Moteurs matrices,

Trop près de l'hélice

Runaway volcano – delit de fuite.

Runaway river – sauve-toi tout de suite.

The world is shrinking-  we've got volcanoes in our backyards now.

It hits you at home, at the country club, the cottage industry, and there goes the mystery.

Highlanders take the country, the Trojans stand guard, et les Matadors se préparent pour leur propre Odyssée.

Une chance. La prochaine generation est toujours la meilleure.

The next generation is always the best.

Trembling with fire

The prospect of watershed

Free-range fire

Caged-up desire

Left to right, better Redwoods than Deadwoods.

Qu'est-ce que je met sur facebook j'ai ainque so much de characters?

Lost in the Barrens, one, two, three , four, five.

Low in the hammock, no limos, red carpets, or movie premieres.

Public prophets on the city bus.

Purple neon tan.

Qu'est ce qu'on fait ici?

Julie, where's the cheque? where's the beef? Ask some Moore.

Shining like a national typewriter.

Uncaged fire

Spent desire

Here's a toast to those who clap first.

Revving their engines like an idle driver at a red light, hand on the shifter, foot on the clutch.

The final turn of the page, a gentle step backwards, a quick look into the abyss,

That last syllable: a checkered flag.

Et c'est parti.  Hand meets hand and sound abounds. A chance to give back.

But is it ever enough? Sometimes. And sometimes it's too much.

And a toast to those who make it all possible, and keeps the writer's voice alive, aloud.

No, not the sponsors, or grants, or even the day jobs or banks.

But the two parts hydrogen and one part oxygen, rollicking frolicking.

Their commotion allows the words to keep flowing, the lava to cool, and tons of mud to wash away.

Try that next time you clear your throat.

And we should not forget the biggest toast of all.

To the authors who hop from intercontinental flights to continental breakfasts.

The continental breakfasts for intercontinental champions.

Hotel mini bars, friendly handshakes, the briefest of dances around the most urgent of circumstances: the stories of mankind and the epic state of mind.

And to the volunteers, stricken by the 'bénévolat' virus.

Without whom we couldn't gather here, where we add "insult to escalating injury" against conformity, blandness, and unoriginal sin.

A river of colour, of symbols that flutter, of paint and vibrating strings —

qui coule sans barrage, erupting over the tarmac, washing away the blacktop with prism tinted whitewash.

And leaving no doubt, no timid hesitation, no teeter, no totter, on Tom Sawyer's fence.

No teeter, no totter, not the cannon or the fodder, and no scene in between, the peace pipe or slaughter.

No rust or erosion, no blotches of grey, except for grey matter, which might just get fatter, and happens to matter, when there's something to say.