httpv://www.youtube.com/watch?v=__M7G3qxCcE
"The Sarah Palin Network"
You know how people always say that they find intelligence and a good sense of humor sexy, but then it turns out that they don't?
Here's some much needed proof that it can happen.  Tina Fey.  She has got to be, on any given day, one of the funniest, smartest writers and performers drawing breath and delivering the goods.  (Fifth season premiere of 30 Rock — easily the best comedy on network television — is September 23rd.)
Above is her latest incarnation of Sarah Palin, which is still very funny, and while the performance does not include Palin's cold misanthropic glare, it captures the goofily entitled and unendearing self-assurance of someone who needs to do some serious self-examination.
After the jump, Tina's classic SNL commercial parody, "Mom Jeans."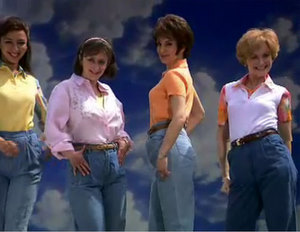 Tina Fey's "Mom Jeans" here: "I'm not a woman anymore, I'm a mom."