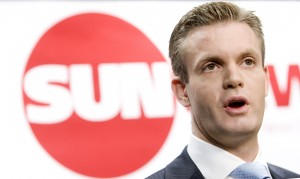 It was very satisfying to watch Harper henchman Kory Teneycke take on Margaret Atwood — and lose about as decisively as it is possible to lose.  He quit as point man for Sun TV News last week ("it becomes increasingly clear my involvement only serves to inflame"), and he may now be under criminal investigation for fraud and identity theft in relation to Avaaz' "Stop Fox News North" petition, which we (courtesy of Eva Kushner) posted on a couple of weeks ago.
Stephen Maher picks up the story in the Chronicle Herald:
On Sept. 2, Teneycke complained on Twitter that he had been signed up: "So, apparently I have signed the Soros/Atwood petition against Sun TV News as well. What BS."

Early the next morning, the Sun papers published a column from Teneycke — titled Maggie Atwood: Buzz off! — in which he revealed that the petition contained many false names, including Snuffleupagus, the Sesame Street character who only ever appears to Big Bird.

The activists at Avaaz read the column and checked the list and found out that, sure enough, someone had added Snuffleupagus and Boba Fett and also a number of Ottawa journalists in an apparent attempt to discredit the petition.

The next day, I received an email from Avaaz informing me that I had been signed up. So had Martin and plucky CBC blogger Kady O'Malley, who decided to stick her adorable nose into the story and went hunting for the list of names.

"am i the only one who can't actually find the list of names online? someone url me, will you?" she wrote on Twitter.

A few minutes later, she tweeted: "maybe he knows. hey, @KoryTeneycke, where'd you see the list of names on the Avaaz petition?"

See, Teneycke had revealed — likely without meaning to — that he knew who had added the names to the petition. Avaaz had not put the names online.

Teneycke, I think, realized the jig was up and replied on Twitter: "@kady Source emailed me to say they registered Boba Fett, D. Shroot, etc. Petition lacks basic controls. Not sure who signed me up."

Well, how did he know he'd been signed up?

Avaaz squealed about dirty tricks and hired big-shot Toronto lawyer Clayton Ruby.

On Tuesday, Ruby sent letters to the RCMP and Ottawa police, giving them the IP address of the Ottawa-area computer used to add the names and asking them to prosecute the guilty party for fraud, identity fraud and theft of a telecommunications service.
The better news is that this may prove to be a fatal blow to the Fox News North application to the CRTC.  This is also yet another ugly development whose provenance is Harper's office.  Canadians never have much appetite for this sort of thing, and their limited tolerance for it in this case may be exhausted.