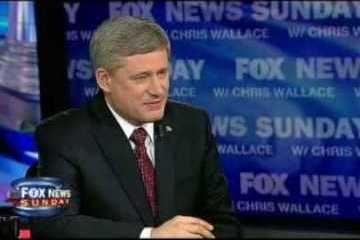 Stephen Harper — in office by way of one in three Canadian voters — interviewed on Fox News Sunday

Here are a couple of articles to provide context for this story: Globe & Mail and Toronto Star.
For me, the elements that tell are as follows.
First, Stephen Harper and his then-press aide Kory Teneycke met secretly with Rupert Murdoch and his Fox News president Roger Ailes, a former Nixon/Reagan/Bush operative.  The fact that the meeting was secret — that is, kept off the prime minister's calendar and not freely disclosed — is disturbing, to say the least.  The prime minister serves at the will of the people.  Murdoch is a notorious plutocrat who in little more than a decade has laid waste to American television journalism.  There was no reason for them to meet without public knowledge, unless of course the content of the meeting was intended to be kept from the public.  In any event, the secrecy was deliberate, which raises legitimate concerns about the behavior and intentions of a public servant (which Harper apparently does not understand: that he is a servant of the people and serves only at their will).
Second, shortly after this meeting, Teneycke resigned his position in the prime minister's office and joined Quebecor as the point man for the development of what conservatives themselves had been referring to as Fox News North.
Third, Quebecor was allowed to jump the line and applied for a Category 1 "must carry" cable license for which it was not qualified, and which the CRTC recently denied.
Fourth, there are indications that the Harper government has been offering inducements to CRTC chair Konrad Von Finckenstein to resign (something this prime minister has been known to do).  Meanwhile the contract of the deputy chair of the CRTC — who is opposed to the application — has not been renewed.
Fifth, while the always-scowling-and-aggressively-shouting-down-his interlocutors-while-dismissing-any-opposition-as-"all-lies-from-start-to-finish" Kory Teneycke whines in public about "free speech" (as though the application for a broadcast license must be granted or be regarded as suppression of speech), Quebecor is once again being allowed to push to the head of the line and is seeking a "mandatory carry" license, which is very rarely granted and only after an extensive vetting process.  Quebecor is doing this even though the most obvious option available to Sun TV now is simply to change its content to all-news and continue to broadcast while offering its product to an already available market.  But Sun TV can't turn a profit and the "mandatory carry" license would not only change that, it would also give the station broad access to a market that does not seem much interested in buying what it is selling.  As John Doyle put it in the Globe & Mail the other day, Fox News North is only acceptable "if it's being jammed down our throats."
So why exactly should this application be granted?  It's not a free speech issue, it's a regulatory issue.  Sun TV already has a license.  Why does it need another?  It can simply change its content if it wishes to.  The answer seems to be that it is gaming the system — evidently with the help of a sitting prime minister — in order to turn around a money-losing business while gaining deep access to the Canadian market for the sole purpose of propagating an aggressively rightward view of the world consistent with the Sun News brand.  Quebecor, of course, has the right to make the application.  But they have no right to expect the application will be granted just for the asking.  And that is what they're doing.  They already have a broadcast license and a money-losing TV station.  Why then is this our problem?