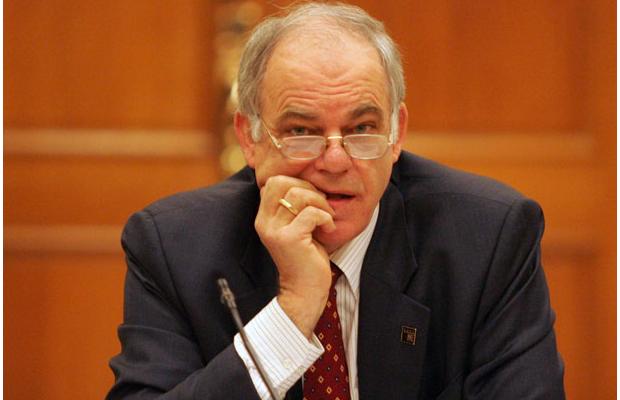 Eva Kershner has forwarded to us this mass circulation email regarding the petition in support of CRTC Chair Konrad Von Finckenstein.  Finckenstein is resisting pressure from the Harper government to license "Fox News North"  as a "mandatory access" rightwing cable news channel.

Dear friends,
[1]
PRIME MINISTER HARPER IS TRYING TO FORCE AMERICAN-STYLE HATE MEDIA ON
CANADA. Sign the petition to support CRTC CHAIR KONRAD VON
FINCKENSTEIN (above) and encourage him to protect Canadians from a
"Fox News North" channel funded by /our own cable TV fees:/
[2]
Prime Minister HARPER IS TRYING TO PUSH AMERICAN-STYLE HATE MEDIA
ONTO OUR AIRWAVES, and make us all pay for it.
HIS PLAN IS TO CREATE A "FOX NEWS NORTH" to mimic the kind of
HATE-FILLED PROPAGANDA with which Fox News has poisoned U.S.
politics. The channel will be run by Harper's former top aide and
will be FUNDED WITH MONEY FROM OUR CABLE TV FEES!
ONE MAN STANDS IN THE WAY OF THIS NIGHTMARE — the Chairman of
Canada's Radio-television and Telecommunications Commission Konrad
von Finckenstein. He's rejected the plan as a violation of CRTC
policies, so now HARPER IS TRYING TO GET HIM OUT OF THE JOB. LET'S
URGENTLY SEND A MASSIVE WAVE OF PUBLIC SUPPORT TO VON FINCKENSTEIN,
with 100,000 Canadians encouraging him to keep standing up for
Canada, and standing firm against Harper's pressure. Sign the
petition below and forward this email to everyone — we'll publish
FULL PAGE ADS IN CANADIAN PAPERS WHEN WE REACH 100,000:
http://www.avaaz.org/en/no_fox_news_canada/?vl[3]
HARPER HATCHED HIS SCHEME IN A SECRET LUNCH LAST YEAR WITH
MEDIA-MOGUL RUPERT MURDOCH, the owner of Fox News. Harper's top aide
Kory Teneycke also came to the lunch, and then left the government to
head up Sun Newspapers and the new "Fox News North".
Fox News fuels hate. While constantly claiming to be "fair" and
"balanced", it allows hysterical anchors like Glenn Beck to
compare Obama to "Lucifer" and "Hitler". Bill O'Reilly, another
anchor, has threatened to boycott Canada, and ANNE COULTER SAYS
CANADA IS "LUCKY THE US ALLOWS IT TO EXIST ON THE SAME
CONTINENT." The network has calculatingly spawned the tea party
movement in the US, a mobilisation of the fringe right which
threatens violence upon its opponents and wears guns to political
rallies.
This is a fight for the soul of Canadian democracy. Our media is not
perfect, but a 'news' network that slavishly serves a political
agenda through mass manipulation and fear threatens the fabric of our
democratic society.
THE CRTC IS PART OF OUR DEMOCRACY — it was made an independent
commission precisely in order to protect against this kind of
government manipulation of the media. HARPER KNOWS THAT HE MUST BULLY
HIS WAY THROUGH THIS INSTITUTION in order to create "Fox News North".
And there are dark rumours in Ottawa that if von Finckenstein will
not leave his job, Harper will simply force him to give in. KONRAD
VON FINCKENSTEIN IS UPHOLDING THE BEST TRADITION OF CANADIAN
DEMOCRACY and civil service in the face of a full scale attack on
that tradition. LET'S SHOW HIM, AND HARPER, THAT CANADA STANDS WITH
HIM.
http://www.avaaz.org/en/no_fox_news_canada/?vl[4]
"Fox News North" is Harper's long term strategy to make radical
conservatism the political centre in Canada, tearing down the country
we love to make us look like the U.S. Thankfully, Konrad von
Finckenstein and the CRTC are standing in his way — let's stand with
them.
With hope,
Ricken, Emma, Iain, Laryn and the rest of the Avaaz team
Sources:
Globe and Mail, "Is Harper set to move against the CRTC?":
http://www.theglobeandmail.com/news/politics/lawrence-martin/is-stephen-harper-set-to-move-against-the-crtc/article1677632/[5]
CBC, "The absolute last thing this country needs":
http://www.cbc.ca/canada/story/2010/06/10/f-vp-newman.html#socialcomments#ixzz0r6MC4p46[6]
Globe and Mail, CRTC refuses Sun TV's bid for preferred status on
dial:
http://www.theglobeandmail.com/report-on-business/crtc-refuses-sun-tvs-bid-for-preferred-status-on-dial/article1641654/[7]
The Star, "Harper's foxy luncheon":
http://www.thestar.com/opinion/editorialopinion/article/851510–mcquaig-harper-s-foxy-luncheon[8]
Mediaite, "Canada and Ann Coulter: a volatile relationship":
http://www.mediaite.com/online/canada-ann-coulter-colleges/[9]
Media Matters, "Glenn Beck compares Obama to Lucifer":
http://mediamatters.org/mmtv/201008040051[10]
Media Matters, "Glenn Beck smears Obama's 11 year old
daughter":
http://mediamatters.org/blog/201005280025[11]
The Examiner: "Bill O'Reilly again confuses facts about Canadian
health care system":
http://www.examiner.com/political-buzz-in-national/video-bill-o-reilly-again-confuses-facts-about-canadian-health-care-system[12]
SUPPORT THE AVAAZ COMMUNITY! We're entirely funded by donations and
receive no money from governments or corporations. Our dedicated team
ensures even the smallest contributions go a long way — donate
here[13].
————————-
Avaaz.org is a 5.5-million-person global campaign network that works
to ensure that the views and values of the world's people shape
global decision-making. ("Avaaz" means "voice" or "song" in many
languages.) Avaaz members live in every nation of the world; our team
is spread across 13 countries on 4 continents and operates in 14
languages. Learn about some of Avaaz's biggest campaigns here[14], or
follow us on Facebook[15] or Twitter[16].
This message was sent to eva.kushner@utoronto.ca. To change your
email address, language, or other information, click here[17]. Want
to leave this list? Click here to unsubscribe[18].
To contact Avaaz, please DO NOT REPLY TO THIS EMAIL. Instead, write
to us at www.avaaz.org/en/contact[19] or call us at +1-888-922-8229
(US).