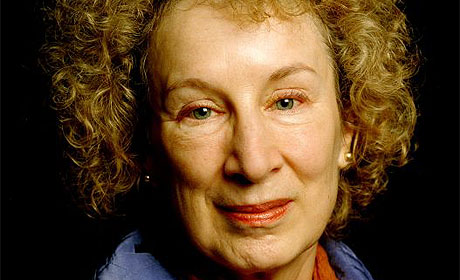 Atwood's recent response to accusations by the Sun in the Sun here.
Money quote:
THE ACTUAL PETITION

"As concerned Canadians who deeply oppose American-style hate media on our airwaves, we applaud the CRTC's refusal to allow a new "Fox News North" channel to be funded from our cable fees. We urge Mr. von Finckenstein to stay in his job and continue to stand up for Canada's democratic traditions, and call on Prime Minister Harper to immediately stop all pressure on the CRTC on this matter." THE VERBS ARE "APPLAUD," "URGE," AND "CALL ON;" NOT "BAN," "SUPPRESS," AND "CENSOR."

The "Fox News" comparison is from the Sun's own CRTC Application # 1. Is it "American-style hate media?" You judge.

The CRTC refused Sun TV News' request for a special licence that forces all cable and satellite distributors to offer the station, thus generating almost automatic income. Application #2 — almost the same deal as #1, but for three years — will be considered. The Sun says it needs this special deal for its "business plan." Should it get one? Should anyone? Can I have one too?
This last point goes to the heart of the matter.  Why, just because Sun News has applied for the license, must it be granted one?  Hell, I'd love one of those myself — like Sun News I could have a "business plan" which includes making millions of dollars.  Why should I be refused?  If I'm not owed it, why is Sun News?  Particularly as they employ libel-spouting nincompoops like Ezra Levant.