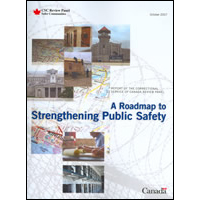 Here is a notoriously well-known public figure speaking out against the Harper government's corrections policy:
Not only is it emphasizing severity on sentences, not only squandering money for prisons that don't need to be built on this basis of build-and-they-will-come, not only is it going to end up housing an inordinate number of native people who should be treated altogether differently, but these programs that are foreseen to reduce the effort made to help people to overcome their problems and therefore become more likely candidates for successful reintegration into society, and even more appalling to me, these plans to crack down on contact between prisoners and their visitors is just a terrible and barbarous thing.
Can you guess who that is? No, it's not a liberal. It's the congenitally conservative Conrad Black: Lord Black speaking as Citizen Black.
Here's more from a story in the Toronto Star:
Black says he is in "violent disagreement" with the Conservatives' "so-called roadmap" — a blueprint  document that sets out the Harper government's corrections policy.

He told The Globe and Mail the Harper government approach is "sadistic and malicious." He told the CBC it is "barbarous."