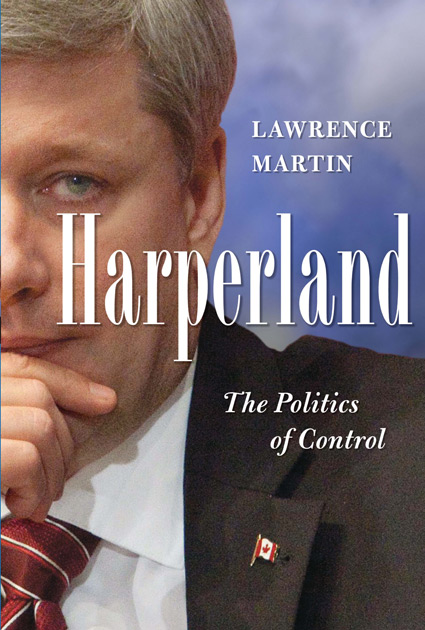 From the conclusion to Lawrence Martin's new book:
It was no small wonder that Canadians feared what Harper might do with a majority government. With that kind of power he could establish a hegemony the likes of which Canadians could not imagine.
It's no secret what's coming: the construction of new prisons despite our steadily declining crime rate, a prospect that distresses even Conrad Black, as well as the introduction of a surveillance state with a "crime bill" that will allow the police to access our email and internet traffic without warrants.
Why?
Harper seems to have no sense of our history, our political traditions, or our expectations as a society. During his rise to power, he dismissed Canada as "a second-rate socialist country."
Who?  What?
Sixty-one percent of Canadian voters cast their ballots to the left of the Harper Conservatives last May. That's 61%. George Bush was at least required to have the appearance of more or less 50% of the vote in order to run amok on American ideals, laws, and constitutionally guaranteed freedoms.
Harper doesn't have anywhere near that kind of support, will never have anywhere near that kind of support, and, worse yet, knows he will never need it. Knowing that in fact appears to be his m.o.
He apparently intends to make over this country to fit his own cramped, angry and unforgiving worldview on the basis of just the 39% who voted Conservative in the last election. With our first-past-the-post electoral system, the needs and expectations of the remaining very large majority don't much matter, as Harper has made clear enough. His unrelentingly vicious disdain for his political opponents (see Stephane Dion and Michael Ignatieff) appears to extend to the people who vote for them. The most effective solution, unfortunately, is also the most elusive, which is to consolidate the massive majority on the left, as Harper did on the right when he helped to engineer the destruction of the Progressive Conservative party, and then lashed the wreckage to Alberta's particular brand of resentment politics that evolved by way of the Reform Party, then the Canadian Alliance, and eventually Harper's own custom-tailored Conservative Party.
Until there is an effective political realignment on the majority left, however, there is still consolation, not least in the work that needs to be done to revitalize our politics and priorities. Whenever the Harper government burdens us with policies and laws that have nothing to do with us and everything to do with him and his remarkably small core-constituency, we should remind ourselves of our strength of numbers and resolve to use it by all the means democracy allows, beginning with free speech and the right to call to account the public servants who serve only at our will.
It's telling that Harper's policy of "law and order" — law, as Frye points out, not being the same thing as justice — involves imprisonment and the denial of privacy where there is no need for either. These are the key elements, as Frye again points out, of dystopia. While Harper may behave as though the social contract subordinates us to him, Frye regularly reminds us that it actually puts all of us, including the political class, in the service of a vision of society that is a source of our salvation:
It seems to me that there are two very powerful myths in political life: the myth of origin, which is a version of the social contract, and the myth of ending, or telos, which is going to be some form of Utopia. It doesn't matter whether you say you believe in a social contract or Utopia–belief has nothing to do with it–the thing is that these are maintained in your mind as the frames by which you do your thinking about society. (CW 24, 514)
Harper likes to end his speeches with "God bless Canada," which is just one of a number of his unpleasant American imports into our much more civil political process. It may also represent a rare glimpse into his own harsh Day-of-Judgement Christian belief as a member of the Christian and Missionary Alliance. But Canada is not just a secular nation, it is the only multicultural nation in the world as a matter of statutory and constitutional law. So if a deity must be invoked, why must it be Stephen Harper's? Why not "Allah bless Canada," or "Yaweh bless Canada," or "Jehovah bless Canada," or "Krishna bless Canada," or "All the gods of all the world's polytheistic religions bless Canada"? And what about the large number of those who do not believe in gods of any sort, as it is their constitutional right to do? Does the prime minister not represent these people too? This is why God has no place in our shared public sphere, of which the prime minister is a most conspicuous representative.
A Utopian society is inclusive. A dsytopian one is exclusive. It runs on fear and resentment. It builds prisons where none are needed, and it subjects its citizens to unwarranted surveillance as an ongoing exercise in intimidation. Freedom is not a boon to be granted by those who possess power. Our freedoms are expressed by the guaranteed rights of all citizens, whatever their status, whether they are homeless people living on the street, or a couple of Conservative senators and other party functionaries charged with the jailable offence of breaking federal election law: they are all equal before the law, and are not advantaged or disadvantaged depending upon who they know or who they don't.
We clearly do not need a suddenly-urgent policy of "law and order" included in our list of our national priorities. We already have law and order in this country to which Stephen Harper has done nothing to contribute. The most that is expected of him is that he not vandalize what he has been entrusted with. It doesn't look like that's going to happen.