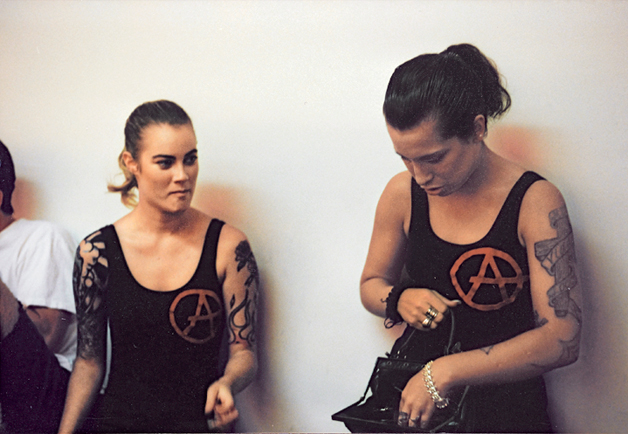 Two of the anarchist cheerleaders from "Smells Like Teen Spirit" between takes
Amanda Marcotte, on the twentieth anniversary of the release of Nevermind, considers Nirvana's feminist legacy.
Nirvana's opening salvo in its assault on mainstream rock, "Smells Like Teen Spirit," did more than just wash away any musical relevance of bands like Poison and Winger, but it also laid waste to the sexism that fueled so much hair metal and other dude-centric hard rock. The first human faces you see in the video for "Smells Like Teen Spirit" belong not to the band members, but to a group of heavily tattooed women dressed like anarchist cheerleaders, a swift but brutal rebuttal to all the images of acceptable femininity that your average suburban teenager lived with at the time. Forget the hair metal groupies or the bubbly beauty queen cheerleaders. For girls watching this video, it was a revelation: You could instead choose to be a badass.

The cheerleaders were just a taste of what Kurt Cobain had up his sleeve when it came to subverting traditional gender roles. It wasn't just the kick-ass women in this one video. Nirvana baked feminist ideas right into their lyrics and image. Nirvana had songs like "Polly," "Pennyroyal Tea," and "Breed," which dealt directly with gender issues from a pro-feminist perspective, and songs like "About a Girl" and "All Apologies," which employed a layered, nuanced understanding of love and gender. Alison, 31, who reached out through Twitter, marveled at the gap between Nirvana and the bands like Warrant that came before it, saying, "So much of the music made by men at the time that was popular was all about how women were basically just holes to fuck," adding that Cobain, "felt like a guy who viewed women as people."

*

Nirvana's feminism stemmed directly from the Northwest rock scene that birthed the band. Even though they were associated with Seattle, NPR's music critic Ann Powers noted, "They came out of Olympia, a much different scene, more female-dominated." Riot grrrl—a subgenre of punk rock that focused on empowering girls to speak out on feminist topics such as reproductive rights and sexual violence—sprang from the same circles as Nirvana, and Cobain made friends with famous riot grrrls Tobi Vail and Kathleen Hanna, who inadvertently gave Cobain the title idea for "Smells Like Teen Spirit." "From the very beginning, he was aware of the gender issue," Powers said, arguing that the riot grrrls "were important to him." Fans of both Nirvana and riot grrrl agree. Kate described Nirvana as "a riot grrrl band, basically." Tara, who was living in Alabama when she discovered Nirvana, particularly admired the riot grrrl connection, saying, "The thing I really loved about that was it didn't seem like a stunt. They ran with the riot grrrl crowd out of genuine admiration for them and what they stood for."

*

For fans, Nirvana often proved a gateway drug to discovering music that had female musicians to go right along with the feminist sentiments. Tara cited Nirvana as the reason she fell hard for alternative rock, bringing her to Tori Amos, Liz Phair, Hole, and Babes in Toyland. Mickey, a Seattle native, was already a fan of many female-led punk bands, but felt Nirvana broadened her horizons. "I probably became aware of bands like L7, Sleater-Kinney, and of course, Hole, through my love of Nirvana." Alison, who described herself as growing up in a "basic, bland suburb," also discovered L7, Hole, and Bikini Kill through Nirvana, but felt that loving Nirvana primed you to listen to feminist musicians outside of their direct sphere of influence. She suggested that the pride Nirvana gave to outcasts and weirdos "eventually led to a more specific validation that being a woman was fine, too," adding that this shot of feminist pride "made me more inclined to seek out strong women in areas like music, literature, etc."
Full article here.
(Photo: Shelli Hyrkas and Experience Music Project)