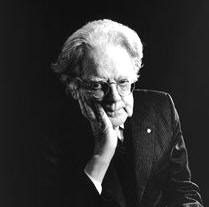 Among my family and friends, Northrop Frye, Canada's greatest thinker, is the forbidden four letter F-word.
No small talk, gossip or conversation begins or ends without my mentioning his name. Back from the cottage? Frye says you re-enacted the Exodus story, escaping the city for your promised land. A fan of the Dougs, Flutie or Gilmour?  Frye calls them the classic David/Goliath, underdog story. The success of The Blair Witch Project? Frye sees it as the ironic unhappy reversal of the Hansel/Gretel story, complete with witch, forest, trail of stones, and house. The demise of hockey czar, Alan Eagleson? Frye says life imitates literature, as Eagleson exploited players just like Bluebeard exploited his wives, until one dared to bring him down. My Ukrainian wife, Leah's surprise "that the man of my dreams turns out to be a skinny Chinese guy". Frye says beauty is not in the eye of the beholder, as my competition, the"tall, dark, and handsome" archetype, is, thankfully, a mass media construction.
Outside of the boxed holdings at U of T's Victoria College, Frye's Alma Mater, one of the greatest collection of Frye paraphernalia — autographs, out-of-print books, tape recordings, photos, films, videos, lecture notes, juvenilia, short stories, caricatures, cartoons, reviews, t-shirts, interviews, newsletters — belongs to me, a skinny Canadian Born Chinese Guy (CBC for short; American Born Chinese are ABCs). Frye fanatics at Victoria College were dubbed Fryedolators or SmallFrye.  My best man, R. Bingham, christened me StirFrye.
So, why do I, and so many others, love Frye? The short and long answer: he takes us everywhere we want to go. And today, on the 19th anniversary of his death, after the tributes of more qualified and distinguished academics and writers, I have finally gathered enough nerve to pay tribute to the greatest 20th century literary critic, on behalf of his favourite audience — the non-specialist, reading lay public.
Like many readers, I first encountered Frye in ENG 101, in "The Motive for Metaphor,"  an essay I read out of patriotic duty, as he and Atwood were the only Canadians represented.  Reading Frye reminded me when I first read Revelations:  understanding little, but the incredible rush of striking metaphors — in an essay, no less — clustered in my brain like a drug-induced dream, a Frye high for awakened minds. That piece led me to the rest of The Educated Imagination and his works.