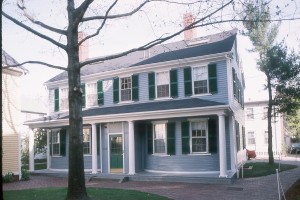 1942: Frye loses access to the medication that offers relief for his chronic hay fever.  He therefore unleashes against the medical profession.
[91]… My druggest tells me that a new drug act has passed preventing several drugs, including codeine and phenobarbol [phenobarbitol], to be sold over the counter without a doctor's prescription, thus greatly reducing the effectiveness of such potent medicines as the one that's helping me. Sounds like a medical stranglehold on their apothecary enemies of 3000 yrs. There may be a lot to be said on both sides, but doctors today are such ignorant barbarians, & their sense of heresy is priestly rather than scientific.
1950: The Frye's move into the Brattle Inn on Story Street, just off of Harvard Square. John Ayre in his biography describes it "a glorified boarding house where they ate on a card table and washed their dishes in the bathtub" (226).  (A house in the Brattle/Story Street neighborhood is pictured above.)
[586] Today we completed our move to Story Street… [T]he place is much better set up for working than the house was: it has an excellent desk and a place to put books. It was hot & we got tired quickly: I did actually most of the unpacking in the evening… Mrs. Baillio…continues to be a dear; they've put up a new double bed in the place of the twin beds they had before; they've moved in new furniture (two enormous easy chairs, one a rocker), & in general I think we'll live comfortably, if not luxuriously.