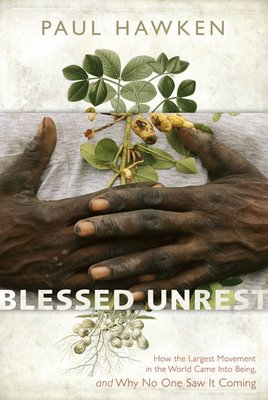 Our first Guest Blogger, Ian Sloan, is minister at Centenary United Church, Hamilton, Ontario.
I have recently joined Centenary United Church in Hamilton, Canada, an inner-city church in the downtown core of Hamilton committed to being a safe and diverse community of faith offering acceptance and hope.  Faced with a scope of responsibility to this community that seems (as I begin) to be overwhelming, and looking for thought and practice large enough to meet the challenges I am committed to meet, I was struck by the similarities between the following comment in the last chapter of Frye's Double Vision ["The Double Vision of God"] and a passage from the author's introduction to a recent book on environmentalism.
Frye writes:
I sense a longing for some kind of immense creative renovation, which, I should imagine, would have to be the product of a large-scale social movement. Earlier in the century a proposal for such an awakening would automatically have been responded to with the word "revolution," a donkey's carrot still held before the student rebels of the sixties. Revolutions, however, are culturally sterile: they weaken the traditions of the past but put nothing in their place except second-rate versions of the same thing. I think the real longing is not for a mass movement sweeping up individual concerns, but for an individualized movement reaching out to social concerns. Primary concerns, that is: food, shelter, the greening of the earth, and their spiritual aspects of freedom and equal rights. (56-57)
Environmentalist Paul Hawken writes in Blessed Unrest: How the Largest Social Movement in History is Restoring Grace, Justice and Beauty to the World (Penguin, 2007):
By any conventional definition, this vast collection of committed individuals does not constitute a movement. Movements have leaders and ideologies. People join movements, study their tracts, and identify themselves with a group. They read the biography of the founder(s) or listen to them perorate on tapes or in person. Movements, in short, have followers. This movement, however, doesn't fit the standard model. It is dispersed, inchoate, and fiercely independent. It has no manifesto or doctrine, no overriding authority to check with. It is taking shape in schoolrooms, farms, jungles, villages, companies, deserts, fisheries, slums – and yes, even fancy New York hotels. One of its distinctive features is that it is tentatively emerging as a global humanitarian movement arising from the bottom up…I sought a name for the movement, but none exists. ..No one knows its scope, and how it functions is more mysterious than what meets the eye. What does meet the eye is compelling: coherent, organic, self-organized congregations involving millions of people dedicated to change. (2-4)
How does  Frye "belong" to the movement Hawken describes? How might you?  If it seems like it could go somewhere, I may from time to time blog here about how I might.