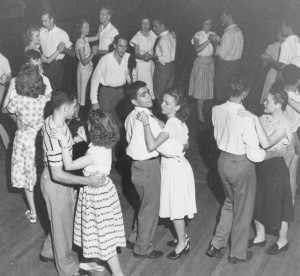 1942:
[92] The radio is going: why is so much dance music thin, wailing, dismally melancholy and wistful, like a train going through a forest at night? [Ed. represented by a classic at the above link.] Is it intended to reproduce the complaining of the libido? Certainly it's aimed at below the waist, & suited to a dimly lit dance hall with adolescents shuffling up & down the floor rhythmically rubbing their genitals together.

[93] I'm acquiring too many vulgar expressions, like bum's rush for W.C. & cowflop for female wallflower.
1950: No entries for September 2, 3, 4.