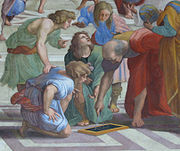 Clayton Chrusch makes some very acute observations, reminding me of the closing pages of the Anatomy where Frye draws the analogy between the language of mathematics and the language of literature: "The mathematical and the verbal universes are doubtless different ways of conceiving of the same universe"  (Anatomy, 354, Princeton edition). Here are Clayton's comments:

Skimming through the essay ["The Dialectic of Belief and Vision"], I came across this sentence which seems like a justification or at least a motivation of the totality of Frye's work:

"It is only mythology, I feel, that can really express the vision of hope, the hope that is focused on a more abundant life for us all, not the hope of finally refuting the arguments of Moslems or Marxists."

I think this is likely the sentiment Joe had in mind when he expressed frustration with my interest in logic and truth claims.

I think we can all agree that we need to express visions of hope, and we also have to refute bad arguments. (If you disagree with me, I have some arguments you will have a hard time refuting.)

One more note on logic, from the perspective of a former computer science student. Logic is not just about making and refuting arguments, but it is a branch of mathematics that is beautiful and awe-inspiring and full of untapped possibilities. The logicians I have encountered in my computer science education are brilliant and exuberantly imaginative people. Knowing these people, I know that logic can do more for us than it is doing now because it has not nearly been exhausted.

The fact that people openly despise myth and happily worship reason doesn't mean that people are any more rational than they are imaginative. The war goes on on both fronts.