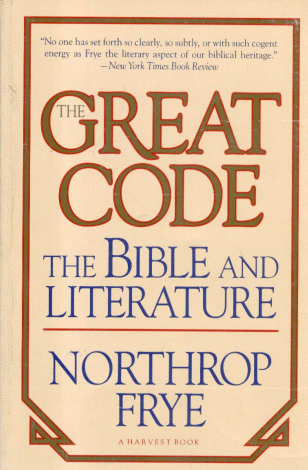 Responding to Russell Perkin:
Frye has been formative to how I read the Bible. Well before I ever went to seminary and sat through biblical studies courses (which are almost universally boring to anyone who's had a bibliography course or two), it was obvious to me that the Bible was a set of widely disparate texts in a multitude of genres–some books even mishmashes of a half dozen different viewpoints and sources of history. I'm a product of my age, culture, and education, and as such I don't find even remotely off-putting Benjamin Jowett's then radical notion in Essays and Reviews that we should read the Bible like any other book. It should and does bear careful study. At the same time, I've been completely influenced by Frye, and read the Bible as a complete verbal structure (or universe) that is cohesive and consistent in its own peculiar and delightful way. The discussion on the blog the other day of first encounters with Frye made me remember buying The Great Code in Bryan Prince Booksellers a dozen years ago, and smiling at how battered my copy is — and how many of those ghastly multi-coloured post-it tabs are sticking out of it! It's Frye's thought that has helped me to hold these two poles in a way that's allowed me some measure of ability for self-polyvalent reading. 
The experience of kerygma reveals an odd tension: it generates a revelation of the divine, the Holy Other, through the use of myth by the one experiencing the myth.  Put another way, when scripture is read by believers to encounter God, metaphor is functioning because the story we read is at once the story of the faith of our forebears and our story.  For example: the challenge I face with the composition of a funeral sermon is that, at its best, it seeks to take the stories of the deceased and to overlay them upon the story of our encounter with the divine in the person of Jesus: not to make the person out to be Jesus, but to help us to see how the person lived on the border of the holy in such a way as to reveal God to us.  A funeral has the three tasks of celebrating the life of the deceased, mourning his or her passing, and proclaiming our hope—and the preacher's noblest desire is to be a vehicle for the metaphor that shows how the story of the dead is at once the story of the dead and our story and God's story.  This pastoral task is only possible if the stories of scripture do cohere in some way: if every story, indeed, is a vehicle for the divine.
The challenge I face as I read and spend time with radical orthodoxy and the like is that these "new" forms of theology insist on a post-modern fragmentation of meaning and yet ultimately can't eschew the fact that there is a referent, that the many stories of scripture are one story of God's active presence and love in history.  (And here an aside: just as Frye argues that there's no such thing as a new form of literature, that each form is heavily dependent on the literature that informs it, I would myself argue the same thing about theology and theological movements.)  Yet there's a desire for eschewal that may explain the tension in the first of Russell Perkin's numbered points, and why people may move away from Frye.  It's not a perspective that makes much sense to me, given that sensitivity to different lenses for reading, so very needed in theology, can't really move all that far from the one story–though we might focus on any one aspect, from honour/shame dynamics to feminist criticism to liberation theology—without ceasing to recognise the myth being engaged as kerygmatic. 
I have one or two other challenges with what Russell writes.  One is that I'm not convinced that radical orthodoxy, to return to the example he used, really moves all that far from what he calls the liberal Protestantism that dominated the middle of the twentieth century.  Radical orthodoxy's focus on social justice is more contextual and partnership-based than the earnest and somewhat patronizing way of living out the "social dimension of religion" that marks Frye's era.  Yet a realised eschatology—"the kingdom of God is within you"—still marks our lives and the current context, and is at the heart of a renewed understanding of the missio Dei within the Church (see David Bosch's Transforming Mission for a better unpacking of that idea).
For me, Frye has been a religious and spiritual teacher because his work continues to shape how I re-encounter scripture.  I'll never forget reading his dismissal as silliness of the idea of trying to talk about what is true in the Bible—clearly Bill Phipps didn't read enough Frye, back when he was the moderator of the United Church of Canada!—and the corollary that the stories are truth: after all, truth is their genre.    Frye may not help me as I try figure out just what I'm going to say on Sunday morning about the healing of Bartimaeus.  He does help me to enter into that universe, though, and I think that's always the only possible first step in trying to share what I experience as good news.