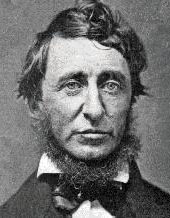 In response to Clayton Chrusch:
Yes, Clayton, that is a great quotation from Frye, and you articulate the issue so eloquently. I think, again, of the situation in antebellum America during the height of the abolitionist movement, and of the relentless compromising that led to the passing of the Fugitive Slave Law, a grotesque law that made it illegal, with severe consequences, to protect or harbor fugitive slaves in the North. All this to preserve the Union, a Union by this point completely corrupted by the pacts with the devil made to preserve it.
Even before that law was passed, another great visionary, Henry David Thoreau, wrote this, from "Civil Disobedience" or "Resistance to Civil Government," which I thought of when I read the words you quote from Frye. It accords so beautifully with what you say about the expediency of crucifying Christ, in which society as a whole is complicit:
How can a man be satisfied to entertain an opinion merely, and enjoy it? Is there any enjoyment in it, if his opinion is that he is aggrieved? If you are cheated out of a single dollar by your neighbor, you do not rest satisfied with knowing that you are cheated, or with saying that you are cheated, or even with petitioning him to pay you your due; but you take effectual steps at once to obtain the full amount, and see that you are never cheated again. Action from principle — the perception and the performance of right — changes things and relations; it is essentially revolutionary, and does not consist wholly with anything which was. It not only divides states and churches, it divides families; ay, it divides the individual, separating the diabolical in him from the divine.
Unjust laws exist; shall we be content to obey them, or shall we endeavor to amend them, and obey them until we have succeeded, or shall we transgress them at once? Men generally, under such a government as this, think that they ought to wait until they have persuaded the majority to alter them. They think that, if they should resist, the remedy would be worse than the evil. But it is the fault of the government itself that the remedy is worse than the evil. It makes it worse. Why is it not more apt to anticipate and provide for reform? Why does it not cherish its wise minority? Why does it cry and resist before it is hurt? Why does it not encourage its citizens to be on the alert to point out its faults, and do better than it would have them? Why does it always crucify Christ, and excommunicate Copernicus and Luther, and pronounce Washington and Franklin rebels?
And here is another passage from the same essay:
Paley, a common authority with many on moral questions, in his chapter on the 'Duty of Submission to Civil Government,' resolves all civil obligation into expediency; and he proceeds to say that 'so long as the interest of the whole society requires it, that is, so long as the established government cannot be resisted or changed without public inconveniency, it is the will of God that the established government be obeyed, and no longer' — 'This principle being admitted, the justice of every particular case of resistance is reduced to a computation of the quantity of the danger and grievance on the one side, and of the probability and expense of redressing it on the other.' Of this, he says, every man shall judge for himself. But Paley appears never to have contemplated those cases to which the rule of expediency does not apply, in which a people, as well as an individual, must do justice, cost what it may. If I have unjustly wrested a plank from a drowning man, I must restore it to him though I drown myself. This, according to Paley, would be inconvenient. But he that would save his life, in such a case, shall lose it. This people must cease to hold slaves, and to make war on Mexico, though it cost them their existence as a people.