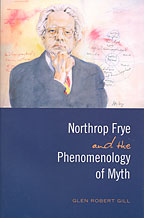 Glen R. Gill's Northrop Frye and the Phenomenology of Myth
Responding to Merv Nicholson's post
The recent posts recalling the death of Northrop Frye have been incredibly interesting to read, especially from the position of someone who was seven when Frye died.
Indeed, there is, as Merv suggests, something "threatening about Frye." I was trained in theory –"high theory"– and was frustrated. One professor suggested I read Anatomy of Criticism; I read it and was convinced. I haven't looked back. Frye is a powerful thinker and one who forces us to think deeply and critically about literature in and of itself and then allows us to move outward from it. So much of the current academy is concerned with the "extra-literary," as Wellek might call it. In some regards, Frye says: yes, you can have it both ways. But Frye demands that if we dp have it "both ways," that it be done well. Frye masterfully treats literature as literature, but also always seems to be able to relate it to the "real" world.
I am still not certain about Frye and Bloom. I don't think that Bloom ever usurped or replaced Frye (despite many attempts); likewise, Frye was certainly quite critical of Bloom's project. The Anxiety of Influence and A Map of Misreading are perhaps the greatest attempts to distance and displace Frye, but, in the attempt they actually begin to reconfirm Frye's importance.  The same can be said, I think, of Fredric Jameson's The Political Unconscious. In some ways, I wonder if Frye is "dead" when he has arguably influenced  some of the most important theorists currently writing; the two mentioned above, for instance (I also think of Tzvetan Todorov and Roland Barthes here), but also someone like Emily Apter who delivered two astounding lectures as Northrop Frye Professor of Literary Theory at the Centre for Comparative Literature. These lectures were not direct dialogues with Frye, but they were certainly, I would argue, (polemical) engagements with Frye. It would seem that there is a "new generation," although perhaps a quiet generation right now.  But there have been some loud cries; for example, Northrop Frye and the Phenomenology of Myth (2006) by Glen Robert Gill which is, without doubt, an impressive reading of Frye.