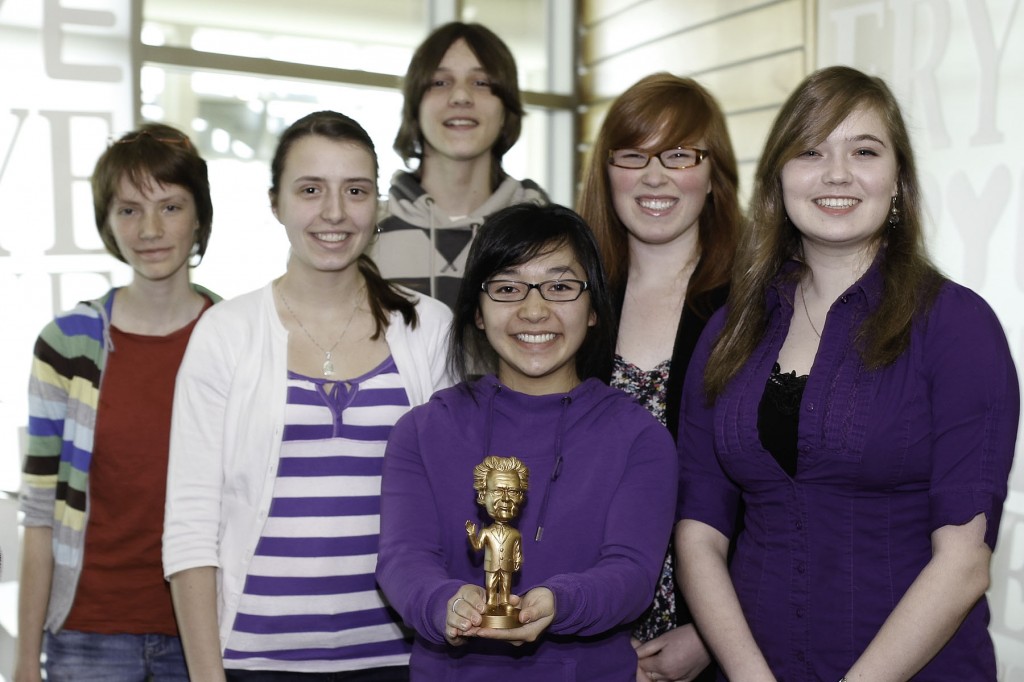 The Frye Academy with the Frye Academy Award

Sunday, April 25, 2010
We made it! The authors are all on their way home and the past week is feeling somewhat surreal.
This morning we had what I think may have been the nicest Brunch and Books ever. This is always an extremely powerful event since The Greater Moncton Literacy Advisory Board's Adult New Writers Contest award-winners and their tutors are in attendance. The Atlantic Lottery Corporation is a long-time sponsor of this event and Courtney Pringle-Carver, the ALC's Senior Public Affairs Counsel (and a Frye Festival Board Member) did a fabulous job of presenting the awards and the authors.
The adult new writers are always inspiring and courageous. I was surprised by how young some of the award-winners were today. Typically, the awards have been won by much older people. It seemed very positive to me that they were younger than usual, perhaps this is an indication that the illiteracy taboo might be changing somewhat.
Beth Powning an award-winning New Brunswick author, who had been involved in a fascinating book project called Breaking the Word Barrier: Stories of Adults Learning to Read spoke extremely eloquently about this idea of "taboo" when it comes to illiteracy in our society. She talked of meeting the newly literate Linda and how difficult it was initially to speak about this. Beth wrote a beautiful tribute to Linda called The Word for Love.
Watching the hard-working Tidewater Book Shop staff pack up the Festival bookshop really brought home to me the fact that the Festival was almost over. I don't know what their numbers are yet, but despite all the books they were packing up, they seemed quite pleased with their sales.
Then, it was to the quickly disassembling headquarters to ensure that our press release was correct. Members of the media started calling, lining up interviews for after the closing ceremony. Local CBC journalist Michael R. LeBlanc had unearthed old audio of Northrop Frye speaking about Moncton's "amicable apartheid" and wanted to speak about the role the Festival plays in bringing our two distinct cultures together. Luckily, I had a few stories of authors who had commented on this, including Noah Richler's obsession with the simultaneous translation devices and how no one seemed to need them in Moncton. I also received an excellent anecdote from Roxanne Richard and Danielle LeBlanc concerning comments that both Annabel Lyon and Steven Galloway had made about the fact that this Festival is the only book event they had ever done where they were able to meet French authors too. They both loved the bilingual nature of the Festival.
Of course, Michael went on to ask me some pointed questions about the Frye Academy Prize and I just completely blanked out. I could no longer speak, let alone think. My brain was "Frye'd". (He called me an idiot…and I was…a completely exhausted one!)
The Greater Moncton International Airport has been the site of our official closing ceremonies for the last four years, ever since they have sponsored our "Poet flyé". I was thrilled to see six of the Frye Academy students in attendance, some of their parents and some new faces. Les Païens, the Festival's official house band and truly the greatest group of talented musicians I have ever had the privilege of knowing provided wonderful improvisational music. Julie Pondant, Marketing Coordinator at the airport did a great job of keeping everything going.
I gave a brief speech about all the amazing stories I had heard over the course of the Festival and about the profound impact we are having on so many lives. I thanked all our sponsors, volunteers and staff. I also announced that we will be losing our Executive Director, Rachelle Dugas who will be going on to new challenges in arts administration and that Danielle LeBlanc an Account Executive with Bristol Communications will be taking over in mid-May. We unveiled a plaque with a great quotation from Daniel Poliquin. We have been putting author quotation plaques on buildings all over Downtown Moncton for the last ten years…it is so much fun to see them and remember the authors over the years and I always get a thrill when I see someone stop and read the quotations.
Then, the moment we had all been waiting for: the poem flyé presented by our Poet flyé, Jesse Robichaud and accompanied by Les Païens. Looking a lot like Tom Cruise in Top Gun, complete with a flight jumpsuit, Jesse delivered a hilarious bilingual poem. I don't have a copy of the poem yet, but I will post it as soon as I get it. Jesse has been an extremely good sport, visiting schools, conducting workshops with students, MC-ing events and even riding the bus, all the while writing articles on the Festival for our local paper, the Times and Transcript.
And finally, the unveiling of the winner of the Frye Academy Award (check out the photo of the Frye Bobble Head award!). The students didn't know the winner until today, but they all seemed extremely pleased that they will have the opportunity to meet Quebecois author Myriam Beaudouin here in Moncton on May 31st.
So, the Festival is over for another year and it is time to get going on some author invitations for 2011. We already have a few spectacular confirmations (sorry, can't say yet!), but we also have a lot of authors who couldn't make it this year, but assured us they would in 2011. Festival dates for 2011 are April 25 to May 1 and I hope that I will see you there!