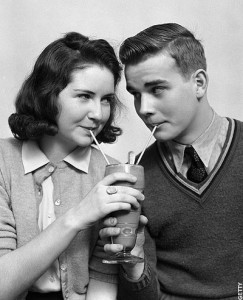 1942: The difficulties with cultivating the young.
[98] A cousin of Helen's living in Forest dropped in. Interested in music, & apparently planning to teach it. Asked her what she was working on & she said "Grade Ten." Probed further & she said "Beethoven." "One of the sonatas?" I suggested. "Guess so," she said. She has a voice like a kitchen stove falling downstairs. I can't understand the superstitious & barbaric notion in this country that it's sissified to to cultivate an accent. The idea that correct & well-modulated speech is a fundamental cornerstone of culture doesn't occur to my students, many of whom make noises like the cry of the great bronze grackle in the mating season. As it isn't part of one's education, I can't teach it: I'm just the best friend who won't tell them. The Yankee method of talking through the nowse and hawnking like a fahghowrrn is very widespread; some whine like flying shells, some mutter like priests, some chew & gurgle like cement mixers. Ten minutes of frank talking to this girl and I could raise her several notches in the scale of culture: she's a bright kid and can take things on.
Aspects of this complete diary entry were included and expanded in "Reflections at a Movie," Canadian Forum 22 (October 1942). The entire article can be found at the above link, reproduced in the Collected Works, volume 11, edited by Jan Gorak.
1950: No entry.