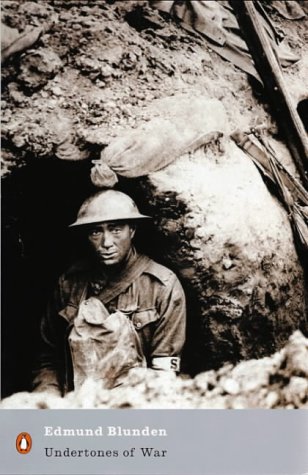 Ward McBurney sends us this poem inspired by Frye and his Merton College tutor and Great War Poet, Edmund Blunden.
Browsing Genius
She stops beside a book stall and she finds
  a copy of her lover's tutor's book:
Undertones of War. It costs a dime,
  and all around her, all she need is look
to see Toronto choked with veterans,
  wheezing past her whizz-bang attitude
that after all it's twenty years since then,
  and youth will have its sway and certitude
that past is past is passed is passed away.
  O Helen, in your hand you held a friend
    ravished by particulars, whose fate
was to smile and quietly unsay
  that the war to end all never ends
    until we hold in hand the hands of mates
    long since buried under soil. So Frye
  took decades to search out his brother's grave –
Eraytus Howard – where his mother paused
    her life on permanent no-need-reply:
  to whom it may concern please Jesus save
this brother who you never are and was.
  Blunden was a genius; so were you,
but he saw you and you blindsided him
  with academic fireworks and true
to form he smiled and let you win
  the laurels that a soldier poet knows.
Bound with brows of time and in the din
  of battle blasted memory he goes,
that shepherd who had gathered Howard in.
Another poem after the break.