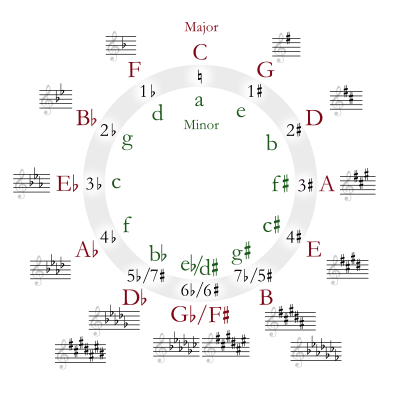 Some very interesting comments from Michael Sinding:
Many thanks for this information, Bob, fascinating as always.

Re: the Circle of Fifths. I'm only going by the Wikipedia article, and I don't know if I'm saying anything new here, but beyond the relations of harmony and discord in the Circle, it's also worth noting the important of progression, resolution and mood in both the Circle and the Anatomy's theory of myths.

The article says: "To the ear, the sequence of fourths gives an impression of settling, or resolution. (see cadence)… [T]he tonic is considered the end of the line towards which a chord progression derived from the circle of fifths progresses." Also, progression-resolution in the Circle seems to be often either upwards or downwards.

In Anatomy, myths are defined by certain resolutions and moods. And resolution and mood imply a certain foregoing sequence of elements.

Examples:

"The obstacles to the hero's desire, then, form the action of the comedy, and the overcoming of them the comic resolution" (164).

"In drama, characterization depends on function; what a character is follows from what he has to do in the play. Dramatic function in its turn depends on the structure of the play; the character has certain things to do because the play has such and such a shape. The structure of the play in its turn depends on the category of the play; if it is a comedy, its structure will require a comic resolution and a prevailing comic mood" (171-72).