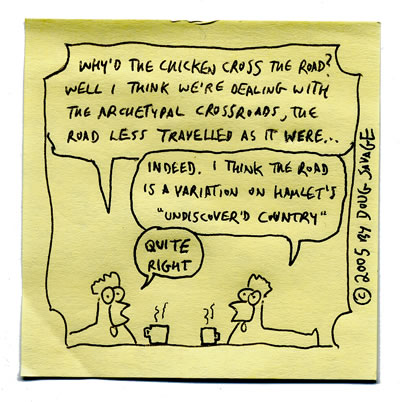 At the risk of being provocative, let me ask if am I the only one to think that Frye's use of the word archetype is his single biggest error in judgement as a literary theorist, possibly one of the biggest errors of judgement in literary studies of all time, on par with the loss of Aristotle's treatise on comedy?
Not only does no one know what the word means, not only is Frye's meaning overwhelmed by and confused with other closely related meanings, but the sheer Greekness and thus foreignness of the word lends it to easy dismissal.
The word convention would have been so much more acceptable, so much harder to attack, so much harder to misconstrue, and in particular would make it clear from the beginning that literature is a human and social construct.
This last point, which Frye himself insists on may seem at first blush like a capitulation to the determinists, but in fact it undermines their accusation against Frye of essentialism (whatever that means) while exposing their own attempts to impose determinism on literature as an attempt to impose determinism on human beings.
Am I wrong?