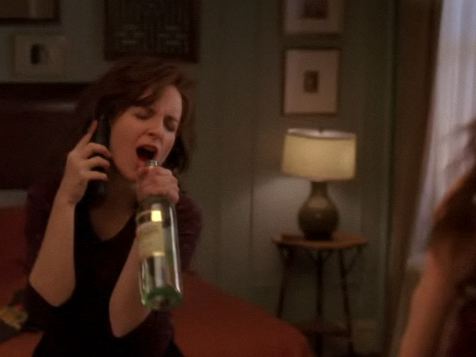 Tina Fey as Liz Lemon drunk dialing while singing "You Oughta Know"

On a recent episode of 30 Rock, Tina Fey's sitcom that brings the celebration of geek girl ascendancy into the mainstream, the ring tone on Liz Lemon's cell phone is revealed to be "Fuck the Pain Away" by Canadian electropunk performance artist Peaches.  It's such an excellent inside joke that this is probably a good time to remind ourselves why everyone should get it.
Third Wave feminism might not have had the broad cultural impact it has without the wide open music scene of the 90s.  And it arguably was helped along in the previous decade by Madonna, who made sure everybody understood that her sexuality was a source of power, not a cause of subordination.  The music of the Third Wave — with its riot grrrl, queercore, and lo-fi, DIY ethic — has done much to make permeable the barriers on female identity.
After the jump, some milestones in the music that has provided the variables for XX.