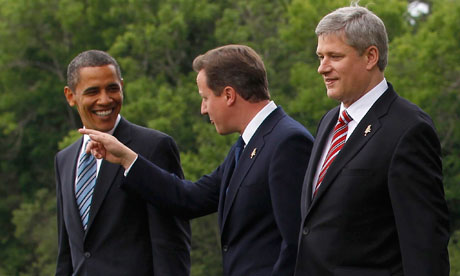 "Prime Minister Stephen Harper has hailed an agreement among G20 leaders at the close of their Toronto summit on a Canadian-led plan for industrialized nations to slash their deficits in half within three years."  CBC News
Paul Krugmam, on the other hand, warns that the lack of stimulus spending may mean a Third Depression.
There's a very notable precedent from 1937-38: President Roosevelt was convinced by conservatives to rein in New Deal spending before the economy had fully recovered, which caused a second serious recessionary dip.
Meanwhile, if Harper is boasting about this, then he owns it.  But be aware that the Americans explicitly warned of the likelihood of a double-dip recession by this route.
However, you may take comfort knowing that the wealthiest percentile of the population — including the masters of the universe responsible for the collapse of the financial markets two years ago — will be just fine.  No penalties.  No new taxes.  No, the cost of their folly is being fully loaded off onto the millions upon millions of innocent bystanders who've already been looted.  Now, thanks to deficit-slashing, we can expect extensive cutbacks in social spending — health care, education, unemployment benefits — as further punishment for our woes.
And it's a Canadian initiative, as Harper goes out of his way to remind us.