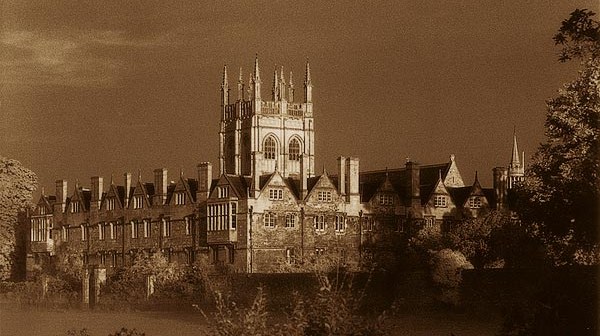 Merton College, Oxford
On this date in 1214 The University of Oxford received its charter.
Frye attended Merton College (established 1264), completing his studies for an MA in the spring of 1939.  During the summer and fall of 1982 Frye was interviewed by Valerie Schatzker as part of an oral history of the University of Toronto.  Here he talks about his experience at Oxford.
Schaztker: How did [study there] compare with what you remember from the Honour Course [at Victoria College]?
Frye: It was very largely a repetition of what I'd done.  I read more intensively, but, as I said, my real reason for taking it was that I wanted to become fresher in the whole English area.  If you ask about instruction: of course it was tutorial, and my tutor was Edmund Blunden, who was a rather shy, diffident man.  For some bloody reason, which I've never figured out, he was pro-Nazi.  I didn't know who was to blame for that.  But in any case, I seemed to meet fascists everywhere I turned at Oxford, so I was poltically and socially extremely unhappy for that time that I was there.  England's morale seemed to be the lowest in its history.  If you read Howard K. Smith's Last Train From Berlin (he's a CBS announcer, and he was a classmate of mine at Oxford), the first chapter is about his experiences at Merton College and it will give you some idea of what I myself found extremely uncongenial about the place…
It may have been pure accident.  But if I found myself just meeting people casually, I seemed to keep running into fascist groups all the time.  I knew that the Labour group was the largest single group at Oxford, but the general feeling at Merton, certainly, and I think at several other colleges as well, was very much not to my liking…
I wouldn't say that it was more politially active, but the undercurrents were beginning to swirl around and they were very ugly ones.  There was one man who had gone up to Merton on a scholarship which had been donated by Oswald Mosely [of the British Union of Fascists] and his job was to recruit people as far as he could.  I felt that if England had not been forced into an anti-Hitler position it would have gone in a very sinister direction or at least the intellectual leadership would have done so.
Schatzker: Did you find yourself ostracized?
Frye: No, I didn't.  That's too strong a word.  I didn't find myself ostrasized.  And of course there were very intense left-wing people both in Merton College and elsewhere.  Howard Smith was one, and another was a tough egg from Yorkshire who came home drunk to his room and found four or five Fascists roughing it up.  So his head cleared and he went into action and pretty soon the air was thick with Fascists flying out of windows. (CW 24, 599-600)