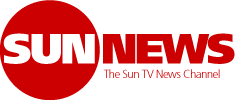 This didn't take long.  Kory Teneyke has apparently been saying for years that Canada needs a Fox News.  Now that the analogy has people alarmed, he's claiming it's merely "critics throwing stones."
The Sun TV News Wikipedia page:
Kory Teneycke, a former chief spokesman to Prime Minister Stephen Harper who will head the network in his capacity as Quebecor's vice-president of development,[1][3] dismissed the "Fox North" comparisons as critics throwing stones . . . .
The first time I met Kory Teneycke, he told me that Canada needed a Fox News channel of its own.